Choosing a dental plan from UF's many options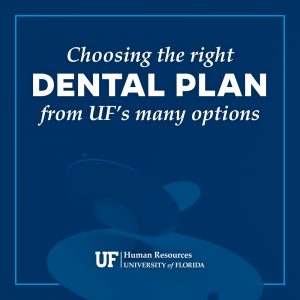 Still trying to decide on a dental plan that works for you and your family? You've come to the right place. We have your oral health covered. Dental plans can be a confusing part of choosing your healthcare benefits package. Between State and UF offerings, you have access to 15 different dental plans, which can be a lot to navigate!
But the good news is that, with so many options, there's bound to be one that fits your and your family's dental needs best. We break it all down for you here.
The dental plans the State and UF offer fall into five categories: PPO, Indemnity, Indemnity with PPO, Prepaid and a Reimbursement Plan. Here's what those terms mean:
PPO
A preferred provider organization plan has a wide network of dentists you can visit. Its greatest benefit is that you can see almost any dentist and still receive at least partial coverage, but if you see a dentist in network, you'll save the most money. There are no referrals or co-pays, but there's usually an annual deductible you have to meet before benefits kick in.
Preventive PPOs focus on the most common types of dental care like exams, cleanings and preventive services like X-rays.
The three plans UF offers in this category are:
Standard PPOs include all types of dental care and typically offer orthodontics to children and/or adults.
The three plans UF offers in this category include:
Who are PPO plans right for? Those who want more flexibility than other plans offer and don't mind paying more for an out-of-network dentist and having a deductible to meet.
Indemnity
This type of plan is often called traditional insurance because it pays claims based on the services you have, such as a cleaning or a filling, usually as a percentage of the charges. These plans allow you to choose your own dentist.
The one plan in this category UF offers is:
Who are Indemnity plans right for? Indemnity plans tend to cost more because they give you the freedom to choose any dentist. Insurers cap the amount they pay for each procedure according to the customary amount so if your dentist charges more, you have to pay the difference.
Indemnity with PPO
With this type of plan, you typically have an annual deductible you must meet before your plan starts paying benefits. Then you pay a percentage of the costs for the treatments you receive. You can visit any dentist but your costs are lower when you use an in-network dentist.
The four plans UF offers in this category include:
Who are Indemnity with PPO plans right for? Those who don't mind paying a deductible, using an in-network dentist to save money, and having the flexibility to choose their own dentist.
Prepaid
These work like HMO (health maintenance organization) plans. Your insurance provider pays contracted dentists in the network a fixed amount of every policyholder's monthly premium. Whether you use your dental insurance or not, the dentist still receives payment every month. These types of plans include low premiums and deep discounts on basic care, and you pay a fixed amount for costlier treatments. You may be assigned a dentist.
The three plans in this category include:
Who are these plans right for? Generally, these plans have the lowest employee premiums but you are restricted to seeing a dentist in the provider's network.
Reimbursement Plan
A reimbursement dental plan is based on the calendar year, starting Jan. 1. The plan will pay the dentist of your choice or reimburse you directly.
The UFSelect Eagles Plan, a reimbursement dental plan based on the calendar year, starting Jan. 1, is a direct-reimbursement plan that pays 100% for biannual preventive visits, 75% for sealants and 50% of remaining claims up to a $1,500 per year annual maximum. There's also a $1,500 lifetime benefit for orthodontics. The plan will pay the dentist of your choice or reimburse you directly.
Who is this plan right for? The Eagles Plan is a simple and easy-to-use reimbursement plan that may be right for you if you focus on basic preventive care and don't mind waiting for reimbursement.
No matter which dental plan is right for you, consider the needs of each family member. Do you have a child who needs orthodontic care, for instance? Do you already have a dentist you want to see and need flexibility? Look at which treatments are covered in the plans you're interested in and consider all the costs — deductibles, out-of-pocket expenses before deductibles are met, co-pays and premiums. Sometimes it's helpful to ask your preferred dental provider which plan(s) they accept.
Additional resources, including plan comparison and premium charts, are available through the State's website, and you can learn more about the Eagles plan on the UF Benefits website.