Wondering about life and disability insurance?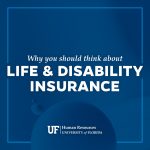 Have you considered enrolling in either life or disability insurance during open enrollment? Maybe you're not sure if these plans are right for someone your age or don't even know what they cover. To help you make an informed decision, we've put together some basic information.
Find out why you might want life insurance and what you should consider before enrolling: https://news.hr.ufl.edu/benefits/are-you-considering-life-insurance/.
Find out more about disability insurance and why you might want to consider it: https://news.hr.ufl.edu/benefits/demystifying-disability-insurance/.