Early voting is underway and runs through Oct. 31
UF faculty, staff, students and other Alachua County registered voters can now participate in early voting for the 2020 election at the J. Wayne Reitz Union.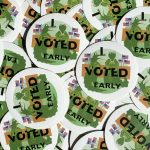 Get an "I Voted Early" sticker. Available exclusively from the Alachua County Supervisor of Elections and the Bob Graham Center at the Reitz Union early voting location while supplies last. Early voting is daily from 9 am to 6 pm until Oct. 31 at the Reitz and a number of other locations across the county. Visit votealachua.com for complete details.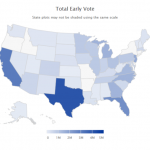 Watch the map. UF Professor Michael McDonald, a nonresident senior fellow at the Brookings Institution, focuses on elections and voter turnout and is closely tracking early voter turnout in the 2020 presidential election through his United States Elections Project. Learn more at electproject.org; you can also follow McDonald on Twitter @ElectProject.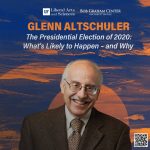 Get some perspective. Join the Bob Graham Center for an evening with scholar of American history and pop culture, Glenn Altschuler, as he discusses the 2020 presidential election, explains what's at stake, and predicts the outcome. Altschuler is the Thomas and Dorothy Litwin Professor of American Studies at Cornell University and the author of All Shook Up: How Rock & Roll Changed America.
While you are encouraged to actively participate and engage in activities surrounding the election, please be sure to keep in mind UF policy prohibiting campaigning or otherwise supporting campaign activities during your workday or using UF resources.
Earlier this week, President Fuchs took to the airwaves to encourage students to get out and vote–if not early, then hopefully on election day, which just so happens to be his birthday. Check it out…