Love in the time of COVID
Lane and Christine Abraben were married in a drive-thru wedding ceremony at the Family and Civil courthouse in Gainesville on May 14. Couples unable to have a traditional wedding because of the coronavirus pandemic were invited to take part in ceremonies.
Christine, innovations coordinator for the College of Education's Lastinger Center, kindly shared with us her story and pictures of their "wonderful evening of whimsy."
---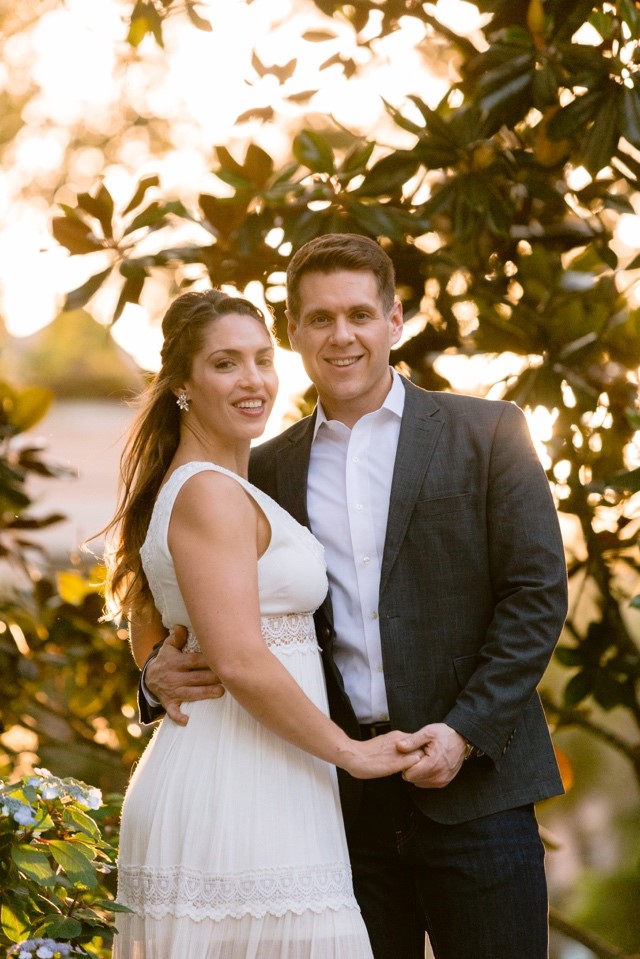 Lane and I were to be married on April 4, 2020, two weeks after the CDC stated gatherings of over 10 people were forbidden. Imagine our shock when our wedding was deemed illegal. Illegal! What strange concept for a couple of 30-something American citizens.  We were frustrated that we had to tell over 100 of our loved ones to cancel their plans to come celebrate us; it seemed like such an undue inconvenience at the time. But "whatever, we've been together for eight years.  We can wait six more months. Certainly this phase will be a long lost memory by that time, right?"
After six weeks of quarantine, we found ourselves more in love and less confident in our prediction that the world would heal on our timeline.  As a surreal reality swirled around us, the uncertainty of an Oct. 2 wedding started to take an emotional toll. Will we still be facing travel restrictions?  Will we be putting our loved ones at risk by asking them to gather on our behalf? Our wedding venue is on coastal Florida; with our luck we'll have a hurricane aimed straight for us on the new date!
Then we heard that Jess Irby, Esq., the Clerk of Court in Gainesville, Florida was conducting drive-through weddings for just two evenings this spring.  As a couple that never eats fast food and prefers to spend time anywhere but seated in a car, this seemed like a sorry option as first. But at least getting "paper married" has some financial perks, so "let's just do it."
We ventured out to a deserted civil courthouse to obtain a marriage license, passing myriad posters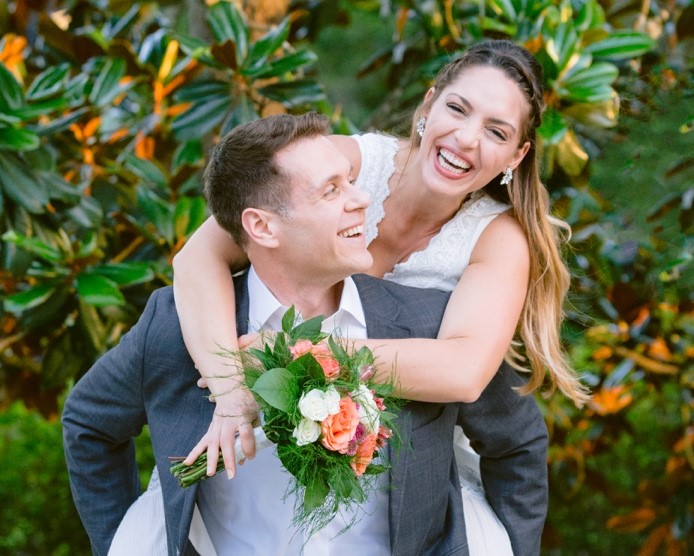 proclaiming "stay home, be a hero!" on our way.  The ominous tone persisted as I half-yelled my social security number through my face mask and heavy plastic window coverings at the cheerful government employee.  Liberal amounts of hand sanitizer were used as we passed photo IDs back and forth. We were assigned the 8:30 p.m. time slot for the Wedding Window. "Be there 15 minutes early to get in line, bring your documentation, and even though you'll be 6 feet apart you should still consider wearing a face mask."  What a far cry from the day of beauty and pampering with my best friends I had planned for my real wedding.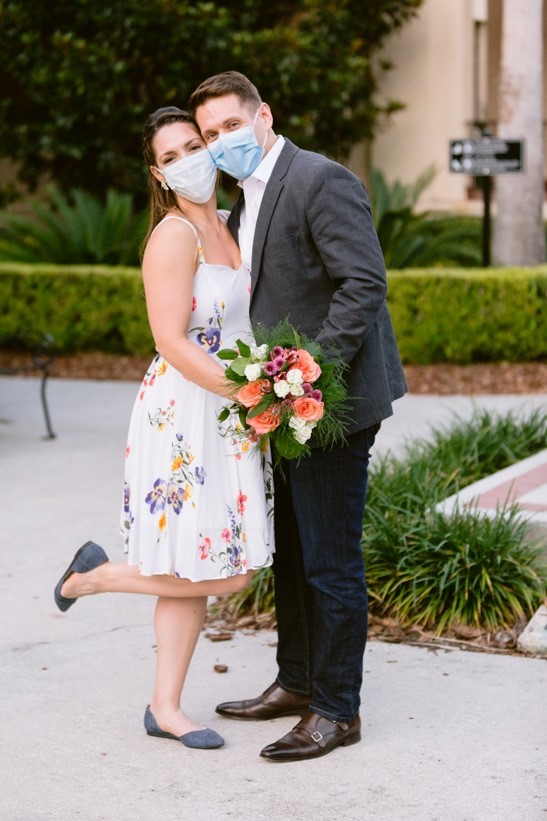 Trying to make this event fun proved a challenge at first: "No, we shouldn't take a trip to celebrate.  Stay home, remember?"  "No, we shouldn't go out to eat after.  Well, maybe on a patio. Just being outside is nice."  But then – "What if we rode bikes?!" "What if we rode the SAME bike?!" We finally had an idea to get excited about! This swift change in attitude made all the difference. We rallied and cajoled many local vendors, quickly securing a tandem bicycle, professional photographer, bouquet and much-needed haircuts, and we dug through our closet for clothes that were deemed good enough.
En route to the ceremony, we met up with our photographer at a local venue known for its beautiful gardens.  I was genuinely surprised to see several other couples already there in the middle of their own photo shoots.  Each couple seemed drastically different at first glance. I saw an Indian couple donning rich red and gold tones, an African American couple looking crisp in a traditional ball gown and white tuxedo, a young bride in a white mini dress and 6-inch stilettos sinking into the grass as she struck a pose with her groom.  I realized that each couple was trying their very best to celebrate their love in unprecedented times. While none of us were living our original plans, each couple giddily yelled congratulations to each other as we did a synchronized dance, rotating through each picturesque vista in the gardens.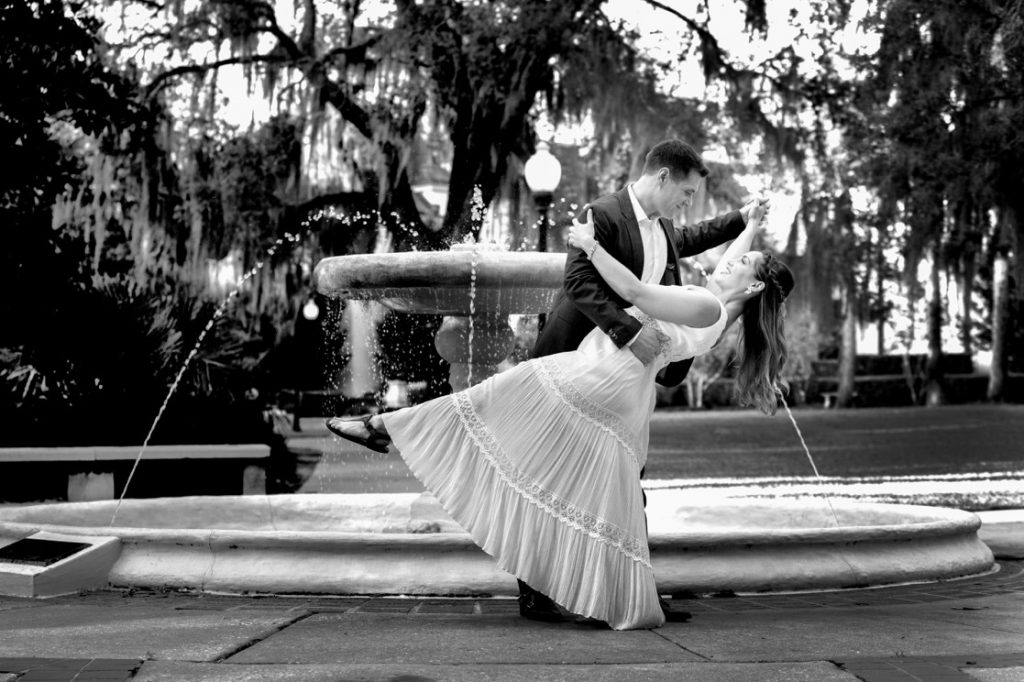 Little did we know that our Clerk of Court also had some magic up his sleeve! Gainesville has been jokingly deemed "GainesVegas" before (a term typically reserved for very sleepy nights in our three-block downtown area) but on May 14, Irby made it a reality.  The drab drive-through window typically used for mundane legal exchanges was transformed into a replica of the Las Vegas Tunnel of Love, a nod to the elopement capital: flashy signs, string lights, and an abundance of gold and tulle decorations surrounded us, quickly making me giggle with glee and completely forget that we were hanging out in a parking lot.  Our community, including Keith Watson Events, BakerBaker and locals who hung out just to revel in new love, turned what could have been a lackluster experience into a delight.
True to any authentic drive-through experience, the speaker system left much to be desired.  The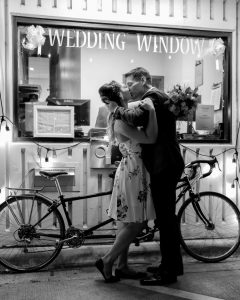 prompts for the vows were garbled and we struggled to repeat the tried and true phrases, but we laughed our way through it.  Despite the unpredictable setting, the pronouncement of our love and dedication to each other suddenly became so, so concrete.
Tears of joy streamed down my face as I realized that this, in fact, was real. It was solid. "For better or for worse, in sickness and in health"; we can do this, together.  This truly was an official union with someone I can depend on for the rest of my life. While we absolutely still plan on having our full wedding with friends and family in the fall, this evening was magical in its own right.  In this world fraught with discourse, our love prevails. The memory of our marriage on May 14 isn't something I wanted or asked for, but it is real, it is us and it shows that our love can survive anything.
And if that isn't the perfect foundation for a life-long relationship, then I don't know what is.