New Reitz Union Restaurant Row features local restaurants
When Matt Mueller joined UF in June 2020 as the new director of Food and Beverage Services, one of his first town outings was to Mi Apá, a local Cuban restaurant. Muller enjoyed the food so much that it prompted him to think of ways local restaurants could be introduced to the UF campus. Fast forward a year later to the grand opening of Local Restaurant Row.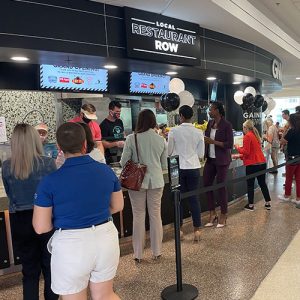 Located in the Reitz Union Food Court, where Croutons used to be, Restaurant Row features five restaurants: Mi Apá Latin Cafe, Big Island Bowls, Fat G's Barbecue, The Little Sombrero and BZ Gelati.
"Gainesville is a unique community with diverse demographics, but many students haven't stepped beyond campus," said Jenn Moyer, Business Services marketing and communications specialist. "Restaurant Row is a way to bring that diverse community into campus for a true Gainesville experience."
It took a large team to make Restaurant Row a possibility and deciding which restaurants to feature was a challenging process.
"The Food Service Advisory Committee gave great feedback and direction on what we should think about and the importance of having diversity of menu," said Muller.
Tim Bucolo, resident district manager of Gator Dining, and Dwan Courtney, director of Small Business and Vendor Diversity, reached out to restaurant owners across Gainesville and put together a list of diverse restaurants from where the final selection was made.
To prepare the space for the restaurants, Bucolo and Bill McGinn, assistant director of Business Services, worked with the Gator Dining team to repurpose the area in the Reitz Union.
For Muller, though, Restaurant Row took on a deeper meaning as the economic repercussions of the pandemic resonated through the Gainesville community.
"Because of the pandemic, we know a lot of our local restaurants are struggling, and we wanted to try and give them a chance to show their products and services to the UF community," said Muller. "We hope that this initiative helps them grow their businesses and stay successful."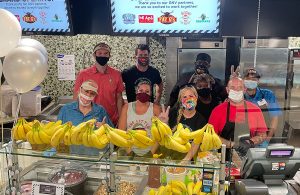 The current batch of restaurants will be part of Restaurant Row through the fall semester. Each restaurant will serve food once a week, Monday through Friday, from 11 a.m. to 2 p.m. Visit the Gator Dining website, to see which day each restaurant will be featured. Cash or credit, as well as Flex Bucks and Gator Dining Declining Balance, will be accepted at time of purchase.
In the fall semester, Muller's team will evaluate the selection of restaurants and potentially introduce a new lineup for the spring. They welcome feedback and restaurant nominations from the UF community. If you have a favorite local restaurant you would like to recommend, complete this form to nominate them!