Category:
Feature
---
---
---
---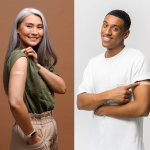 Getting vaccinated for the flu virus goes a long way toward keeping you, your loved ones and the greater UF community healthy. The Student Health Care Center, or SHCC, offers a variety of appointment times and locations to get a flu vaccine and adds new options frequently.
Faculty, staff and students can visit the SHCC website to view available vaccine locations and to schedule an online appointment. Faculty and staff can also receive a flu shot at the annual Benefits and Wellness Fair , scheduled for Oct. 13 from 9 a.m. to 3 p.m. COVID vaccines are also available and can be given at the same time as the flu vaccine.
Faculty and staff outside of Gainesville are encouraged to visit their local pharmacy or contact their health care provider to schedule a flu shot.
---
---
---
---
---
---
Next Page »