City of Gainesville takes steps to improve safety and traffic patterns near campus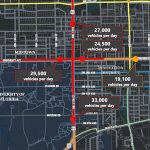 On Oct. 21, the Gainesville City Commission approved the design phase for changes to University Ave. and 13th St. The changes were presented by HDR Engineering as part of its Corridor Study of 1.9 miles of University Ave. and 1 mile of 13th St. The goals of the study were to improve safety, prioritize people, analyze and develop concepts, recommend interim and ultimate improvements, and partner with UF and FDOT. 
Learn more: https://alachuachronicle.com/city-commission-approves-design-phase-for-changes-to-university-avenue-and-13th-street/.