April 3, 2020
Ask Science: What is the possible taste/smell link to COVID-19?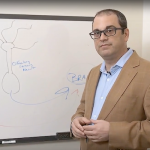 Steven Munger, director of the University of Florida Center for Smell and Taste, hosted an Ask Me Anything session on Reddit's popular Ask Science section this week, discussing the loss of taste and smell as a possible early symptom of COVID-19.
Munger answered questions about what to do if you start to lose your sense of taste and smell and what science can tell us about the potential link.
---
Spotlight: UF's Emerging Pathogens Institute
Uniquely positioned to respond to some of the world's most pressing questions about COVID-19, the UF Emerging Pathogens Institute has frequently been in the spotlight in recent weeks. With collaboration from researchers across disciplines, the institute focuses on new and re-emerging diseases as well as their threat to Florida's tourism, health and economy.
---
UF Health researchers donate gloves, masks and other Personal Protective Equipment to support frontline colleagues
Researchers from across the University of Florida and UF Health have joined an urgent effort to collect and donate personal protective equipment, or PPE, to build on existing stockpiles in support of clinical colleagues on the frontlines of treating COVID-19.
By the pallet and truckload, laboratory teams spanning across UF's many scientific disciplines are amassing masks, face shields, gloves, gowns, disinfecting wipes, hand sanitizer and more to be sure that UF Health's frontline health care personnel have the equipment they need to stay safe and provide the best possible care to patients. https://ufhealth.org/news/2020/uf-health-researchers-donate-gloves-masks-and-other-ppe-support-frontline-colleagues
---
From our Twitter feeds
The UF Health Neuromedicine Clinic stayed after hours Wednesday to show their appreciation for our front-line health care providers and to support our patients with some sidewalk art at the entrance of the UF Health Heart & Vascular and Neuromedicine Hospitals. pic.twitter.com/56Ek8wKGV8

— UF Health (@UFHealth) April 2, 2020
---
Aid-a-Gator provides more than $1 million in support
Members of the UF community are continuing to come together to support Gators in need through Aid-a-Gator, which provides financial assistance to students and employees who are experiencing emergent and unexpected financial hardship. The Aid-a-Gator emergency fund has provided 1,187 awards totaling $1,135,702.00 to students and employees in recent weeks to help cover rent due to lost wages, unexpected travel or childcare expenses, additional technological requirements or other unanticipated needs.
To file an application or to donate for students, visit https://www.sfa.ufl.edu/aidagator/ and for employees, visit  https://benefits.hr.ufl.edu/gatorperks/aid-a-gator/.
---
Student Spotlight: Kayla Kalhor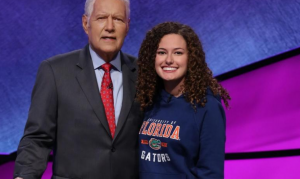 Kayla Kalhor, a chemistry sophomore at the University of Florida, will compete in the "Jeopardy! College Championship" on Tuesday. She joins students from universities across the country like Yale, Northwestern and even Florida State University. In the 10-day college championship event, 15 students will compete for a $100,000 grand prize and a berth in the next Tournament of Champions. In Gainesville, "Jeopardy!" airs at 7:30 p.m. weekdays on WGFL-TV.
---
Share your story of academic innovation, research impact, student resiliency or staff dedication with us by sending an email to news@ufl.edu.