August 31, 2020
Join us for a University Town Hall on Wednesday, Sept. 2

UF faculty and staff are invited to join President Kent Fuchs and other senior leaders for a university-wide town hall on Wednesday, Sept. 2, from 4 to 5 p.m. Learn more about how UF has prepared for the fall semester, why we are charting a different course than other universities, and what we all need to continue to keep in mind to provide a healthier and safer experience for our faculty, staff and students.
President Fuchs will be joined by Provost Joe Glover, Senior Vice President and COO Charlie Lane, Vice Presidents Jodi Gentry and D'Andra Mull, and Screen, Test & Protect Director Michael Lauzardo. You can ask your questions in advance by completing this form or ask them on the day of the event.
Join the Town Hall via Zoom on Wednesday at 4 p.m. via this link: https://ufl.zoom.us/j/92455593662
---
#GatorsWearMasks. Is yours offering the best protection?
Did you know masks with exhalation valves or vents allow air to be expelled? The CDC does not recommend these types of masks because they do not prevent the person wearing the mask from transmitting COVID-19 to others. In addition, neck gaiters and bandanas should not be worn unless no other face covering is available to you.
UF's Masking and Physical Distancing Policy has been updated to reflect this new guidance. Additionally, face coverings are also now required on employee and visitor shuttles as well as on RTS buses.
Below are some examples of "dos and don'ts," courtesy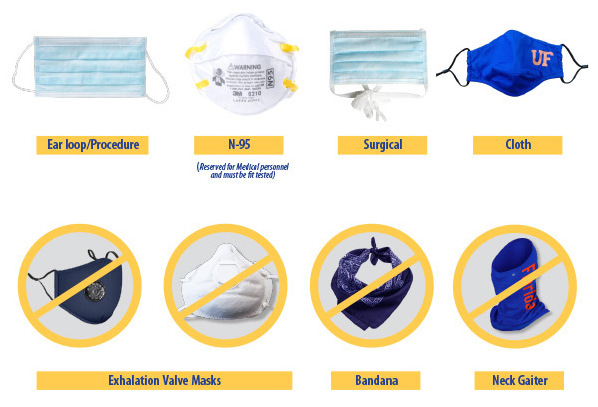 ---
How furloughs can help navigate challenging budget circumstances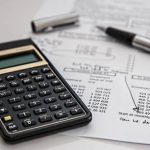 The budgetary effects on UF and universities nationwide resulting from the COVID-19 pandemic have been substantial. At UF, during the spring and summer, we experienced a revenue shortfall of more than $40 million. Fortunately, the university received federal CARES grant funding that largely offset those losses. Going forward, however, we cannot count on such relief.
The university is considering a variety of measures aimed at maintaining our fiscal soundness, and to do so effectively we need to have as many tools at our disposal as possible. To that end, one step the university may consider taking is the implementation of furloughs to minimize broad employee impact and preserve faculty and staff jobs.
Furloughs are designed, in part, to cushion financial challenges so that more employees bear a much smaller amount of the fiscal burden for the good of all. Because salaries comprise a large percentage of our budget, in some situations, just a few days of leave without pay can make a big difference for a work unit in mitigating or managing financial challenges while saving jobs overall.
How do furloughs work?
Furloughs are mandatory unpaid partial or full leaves of absence from work and are widely used as a more measured method of preserving jobs while addressing financially adverse events. Partial furloughs might include an employee taking one Friday off each week for a month, for example, or an employee working half-days throughout a two-week period.
Some of the benefits furloughs provide include:
Preserving an employee's continuous service, length of service and hire anniversary date
Continued access to health benefits and employer contributions to employee health insurance coverage
Potential eligibility for unemployment benefits and expanded benefits under the CARES Act
There currently are no plans for implementing a campus-wide furlough. If needed, furloughs would be used in a limited, carefully targeted manner and only after a review process, including approval from the appropriate vice president and UF Human Resources.
A Furlough Policy is being drafted to help guide this process and will be available after appropriate review and input. As we move through the coming weeks and months, and the impact on the university's financial circumstances becomes clearer, we will be sure to keep you informed so you can prepare if needed.