July 23, 2020
Artificial intelligence partnership with NVIDIA will propel UF research and scholarship
On Tuesday, UF announced a public-private partnership with NVIDIA that will help UF researchers address some of the world's most formidable challenges, create unprecedented access to AI training and tools for underrepresented communities, and build momentum for transforming the future of the workforce. The university will be home to the most powerful AI supercomputer in higher education.
The initiative is anchored by a $50 million gift — $25 million from UF alumnus Chris Malachowsky and $25 million in hardware, software, training and services from NVIDIA, the Silicon Valley-based technology company he founded that has become a world leader in AI and accelerated computing.
UF will be among the nation's first to integrate AI across all disciplines and make it a ubiquitous part of its academic enterprise. It will offer certificates and degree programs in AI and data science, with curriculum modules for specific technical and industry-focused domains. The initiative includes a commitment on the part of UF to hire 100 more faculty members focused on AI. They will join 500 new faculty recently added across disciplines — many of whom will also weave AI into their teaching and research.
To learn more about what's in store, check out the video below and read the full announcement.
---
Save the Date! UF Research Resumption Town Hall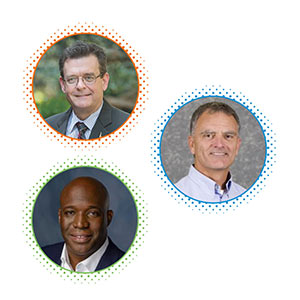 Join Vice President for Research David Norton and Assistant Vice Presidents Rob Ferl and Duane Mitchell next Wednesday, July 29, at 3 p.m. for a virtual town hall to discuss progress toward full resumption of research at UF.
Watch for further details and a link to the session, which will be held via Zoom, next week.
---
Want to be a better advocate for your health? HELP is on its way!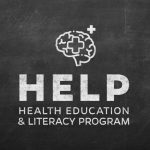 Do you have the tools and information you need to make the most of your medical appointments? Learn how to use health information to your advantage and become an advocate for your well-being in this 30-minute webinar on health literacy.
This session will focus on helping you learn how to obtain, understand and apply basic health information, enabling you to take a more active role in your health management.
Sessions will be available next Tuesday and Wednesday, July 28 and 29. For more information and to register to attend, visit the UFHR Wellness website.
---
UF Engaged team receives HR Excellence Award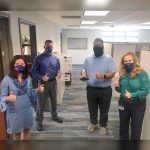 The team responsible for the implementation of UF Engaged recently won a Southern Region HR Excellence Award from the College and University Professional Association for Human Resources. The awards recognize the efforts of individuals, teams and institutions who are transforming HR at their institutions and influencing the profession on a broader scale.
The team won the award for its implementation of the new and improved UF Engaged program, which required a significant culture shift at the institution and a change management plan that informed, engaged and prepared UF leaders and staff for the new process.
---
Keep your cool with heat safety tips from UF/IFAS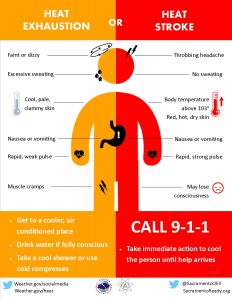 Working in the garden during the summer can put gardeners at risk from the unforgiving Florida heat. Discover precautions you should be taking to protect yourself from the heat, whether gardening or participating in other outside activities, in this UF/IFAS Gardening Solutions post. You can also click on the image at right for a larger version of this infographic that details the differences between heat exhaustion and heat stroke, courtesy the National Weather Service.
---
Talking Covid: A Survival Guide for People of Color
Communities of color are at higher risk of getting COVID-19. Black, Latino/a/x, and Indigenous/Native communities are four to five times more likely to be hospitalized, according to the CDC. This snowballs into disproportionate impact on employment, mental health and more.
With this in mind, UF Intersections will host a two-day program this weekend to increase awareness of COVID-19 and share tools with communities of color on how to be well. The event will feature panels and activities geared toward education and supporting the communities most affected by COVID-19. All events are free and open to the public.
To learn more and to register, please visit the event website.