July 28, 2020
Find out what's in store for UF Research in this Wednesday's town hall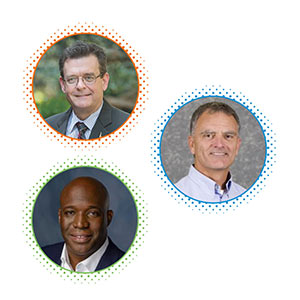 Learn more about how UF is making progress toward full resumption of research and ask your questions as our town hall series continues this Wednesday, July 29, at 3 p.m.
Vice President for Research David Norton and Assistant Vice Presidents Rob Ferl and Duane Mitchell will share how the UF research enterprise is navigating the challenges posed by COVID-19. They will also discuss some of the latest exciting research developments at UF, including the recently announced AI initiative; competitive grants for research on the topics of race, equity, justice and reconciliation; and cutting-edge research being done to help solve problems related to COVID-19.
You can ask your questions in advance by completing this form. To join Wednesday's town hall at 3 p.m., please visit https://ufl.zoom.us/j/93066502402.
The session will also be recorded for those unable to attend in-person. Watch for a link to the recording in Thursday's issue of UF at Work.
---
For UF researchers, pausing and resuming work has brought major challenges, sparked innovation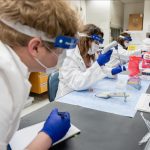 David P. Norton, Ph.D., has spent nearly a decade building a collaborative, leading-edge research environment at the University of Florida. But as the number of coronavirus cases began to swell in Florida this spring, Norton and his leadership colleagues faced a daunting challenge: how to pause — and then restart — research at UF's 16 colleges in Gainesville and dozens of facilities statewide.
For Norton, UF's vice president for research, March was a blur of complicated questions and big decisions. What kinds of research activities needed to, and could, continue? How could more than 4,000 students, faculty, staff and postdoctoral associates stay engaged and productive? How can valuable scientific work in progress be preserved?
Learn how the unprecedented shutdown of the research engine that drives the state's flagship university sparked a different kind of innovation as creativity and novel approaches flourished across campus in this UF Health News story.
---
A celebration of and welcome to UF's first-generation students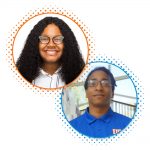 On July 16, UF students Anthony Collins and Johanna Lucas were recognized at the Inaugural FL TRIO Scholarship Recognition Ceremony, which honors statewide achievements by students who are the first in their families to attend college. The federally funded TRIO Programs are designed to increase access, retention and graduation rates for first-generation students.
UF currently offers two such programs: the UF McNair Scholars Program and Student Support Services, which Collins and Lucas each participate in, respectively. You can read more about them both in this story.
The Office of Academic Support (OAS) also recently welcomed 276 first-generation students in a three-day virtual UF Connect event for incoming UF freshmen. For more than 20 years, OAS has played a pivotal role in providing a successful transition to college for UF Promise program participants and incoming first-generation students during the Summer B semester. Read the full story.
---
Early voting begins on campus next week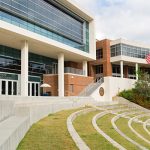 Beginning Monday, Aug. 3, through Saturday, Aug. 15, all UF students, faculty, staff and other Alachua County registered voters will be able to participate in early voting for the 2020 primary election at the Career Connections Center in the J. Wayne Reitz Union. Hours to vote are from 9 a.m. to 6 p.m.
Parking for those voting will be available in the Reitz parking garage. Physical distancing will be observed in the polling place, and a mask is required.
If you prefer to vote by mail, you may request a vote-by-mail ballot here or call (352) 374-5252 by 5 p.m. on August 8. Please note the ballot must be returned to the Supervisor of Elections Office by 7 p.m. on election day, Aug. 18.
---
Want to help support public engagement?
Student groups eager to increase voter engagement at the University of Florida are uniting their efforts through the Gator Get-Out-The-Vote Coalition to ensure high voter turnout this election season. The group is now inviting other UF entities to get involved.
President Fuchs joined coalition members earlier this summer to pledge his support for civic learning, political engagement and voter participation on the UF campus, and underscored his commitment by adding UF as a signatory to the national ALL IN Campus Democracy Challenge. If you or your office wants to become part of future Coalition efforts, you can request to join the Gator GOTV Facebook group.