July 30, 2020
COO Charlie Lane sends message to Gainesville City Commission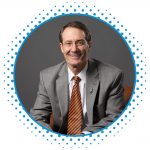 Yesterday, UF Senior Vice President and COO Charlie Lane sent a letter to members of the Gainesville City Commission to share more about the university's plans for the future and how those plans may impact the city.
You can read the full letter, which was delivered via email to the commissioners and posted online, here.
---
Leaders provided optimistic outlook for research at UF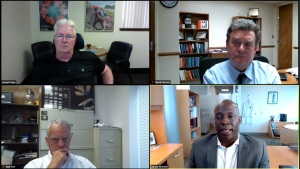 UF Vice President for Research David Norton, along with AVPs Rob Ferl and Duane Mitchell, painted an optimistic picture of the current state and future of research at the University of Florida in a town hall held Wednesday afternoon. Perhaps most impressively, Norton shared, UF faculty submitted a record number of proposals in 2020, even in the midst of the COVID-19 pandemic.
More than 500 faculty and staff tuned in to ask questions about UF's Research Resumption Plan, currently in Stage 3. Participants also learned more about some of the COVID-19 research being conducted at UF as well as the university's recently announced AI initiative and the new Racial Justice Research Fund, which is accepting proposals through Sept. 28.
If you were unable to attend in person, you can view a recording of the session.
---
Today's town halls to address enforcement, equity and health on campus and beyond
Both the UF Faculty Senate and the City of Gainesville are hosting town halls today.
Dialogue with law enforcement leadership
From 3 to 4 p.m., the Faculty Senate will host a town hall featuring Sheriff Sadie Darnell, Gainesville Police Chief Tony Jones, UF Police Chief Linda Stump-Kurnick, UF Department of Civil & Coastal Engineering Associate Professor David Prevatt, UF Assistant Professor of Pediatrics and Associate Dean of Diversity & Health Equity Donna M. Parker, and UF Clinical Assistant Professor of Parasitology and Director of Community Engagement & Diversity Outreach Michael V. Bowie. The event will provide a space for UF faculty and staff to engage in an open dialogue with local law enforcement leadership.
Inquiries to the panel may be submitted prior to the meeting, and you can join the town hall webinar here at 3 p.m. today.
Renter's rights, equity matters and topics related to COVID-19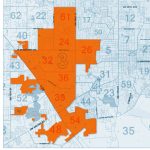 City Commissioner David Arreola will host a one-hour telephone town hall today at 7:15 p.m. for District 3 residents and all Gainesville neighbors. He'll be joined by several of the City's charter officers to answer questions from callers about renters' rights, equity matters and other topics including the COVID-19 pandemic.
The event will be streamed live on the City of Gainesville's Facebook page and website as well as COX Cable Channel 12 and will be archived online.
---
UF Health Shands named among nation's best hospitals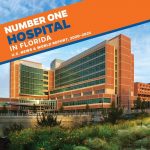 The UF Health Shands Hospital emerged as Florida's top health center and one of the nation's elite in the U.S. News & World Report's 2020-21 Best Hospitals survey, with a remarkable nine medical specialties placing in the nation's Top 50 — more than any other hospital in the Sunshine State.
The Best Hospitals rankings are based on survival rates, patient safety and specialized staff across 16 adult medical specialties at nearly 5,000 medical centers. U.S. News also analyzed survey responses from thousands of physicians as part of the rankings.
Read the full UF Health News article.
---
Essential employee designation reset for 2020-21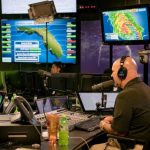 As the university completes the process of screening faculty and staff for access to UF facilities, UF departments have been asked to update essential employee designations for future emergency work interruptions.
This designation is more narrow than the expanded essential designation that was used earlier this year. Essential employees provide vital support to the University of Florida in the event of an emergency including weather events, natural disasters and other emergency closings.
More information may be found on the UFHR website. If you have questions or concerns about whether or not you already are or should be designated essential personnel, please be sure to discuss with your supervisor or your area's HR liaison.
---
EEP application deadlines approaching for fall semester
The UF Employee Education Program (EEP) is a university-funded benefit designed to provide full-time TEAMS, Academic Personnel and USPS employees who have been employed for at least six months with tuition assistance for up to six credit hours of eligible college-level courses per semester.
UF faculty and staff who wish to take college courses through the EEP during the fall semester are encouraged to visit the program website today for information on upcoming application, approval and registration deadlines.
---
A correction … and a second chance to celebrate our first-gen students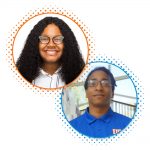 Tuesday's issue included a feature on UF students Anthony Collins and Johanna Lucas, who recently participated in the inaugural Florida TRIO Scholarship Recognition Ceremony. However, our image included alongside the story included Dr. Samesha Barnes, director of the McNair Scholars Program, instead of Student Support Services Scholar Johanna Lucas.
We apologize for the error and have replaced Johanna's picture here and in the full story. Congratulations again to Johanna, Anthony and all of our incoming first-generation students!