June 15, 2020

It's the home stretch for faculty and staff screenings
Under the auspices of UF Health Screen, Test & Protect, more than 15,000 faculty and staff have already completed the screening process, and beginning today, UF entered Phase 3 of its screening efforts.
If you have not already completed the required screening process, be on the lookout for an email from UF Human Resources prompting you to do so sometime within the next two weeks, even if you are not planning to be on site until later. Employees who work remotely are also required to participate in this screening. In order to ensure all faculty and staff have an opportunity to participate in testing, please be sure to complete the UF Health COVID-19 Screening Questionnaire within 48 hours of receiving the screening invitation email.
Our UF community has demonstrated time and again its unified commitment to care for one another throughout challenging times. By completing the screening process now, you can help ensure that others returning in the fall — including our students, new faculty and staff, and those 9- or 10-month faculty who may be elsewhere this summer — will have an opportunity to complete in-person testing upon their return.
Faculty and staff throughout the state may have different arrangements, depending on their location. If you have questions about the process for your area, please reach out to your HR representative for more information.
We have a number of resources available to support you through this process on our Working Through COVID-19 website, including:
What to expect in the screening and testing process
Answers to frequently asked questions
Guidelines for cubicles and shared workspaces
Downloadable building signage
Best practices for hygiene and cleaning work spaces
We will continue to add more information and resources to this website as they become available in the weeks to come. If you have questions about this process or we can be of further assistance, please email employee-screening@hr.ufl.edu.
---
UF Health researchers working to develop COVID-19 vaccine using gene therapy technique
A team of University of Florida Health researchers is using an established gene therapy technique to quickly develop a COVID-19 vaccine that could be tested in humans later this year.
The technique uses a harmless virus to help fight a harmful virus. In this case, the harmless virus is used to package and deliver a gene from SARS-CoV-2, the strain of coronavirus that causes COVID-19. The gene therapy vaccine can't replicate on its own but is potent enough to trigger a beneficial, antivirus response from the immune system.
Read more about their work in this UF Health News story, and learn more about how viruses and gene therapy work in the UF Health video below.
---
New Herbert Wertheim Laboratory building still on schedule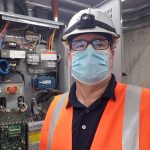 The UFIT Construction Services team is ensuring the IT infrastructure for the new Herbert Wertheim Laboratory for Engineering Excellence is ready to go for this summer's opening. This will be one of UF's flagship buildings: an 84,000 square foot state-of-the-art research and educational environment.
The UFIT team has all networking and wireless services in place and is ready to enable faculty and student cross-disciplinary collaboration throughout this high tech facility. Thanks to Rob Snively (pictured at right), Wally Sanchez, John Howard, Brad Soco and Tom Chesterfield for ensuring this building is ready to serve the New Engineer.
Read more about UFIT's work here.