June 25, 2020
Board of Governors approves UF reopening plan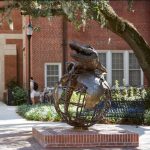 The State University System of Florida Board of Governors has approved the reopening plan for the University of Florida. UF's plan outlines how the university will strive to create a safer, healthier campus environment and continue its research and education missions through screening, testing and enhanced protective measures.
The plan will continue to be updated as circumstances with COVID-19 evolve both globally and locally. You can learn more and share your thoughts by visiting the "Our Plan Forward" section of UF's website.
---
Save the date! Town Hall with COO Charlie Lane next Thursday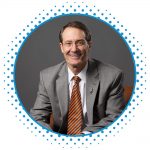 Join Senior Vice President and Chief Operating Officer Charlie Lane next Thursday, July 2, at 10 a.m. for a virtual town hall to discuss UF's plans for reopening. Watch for further details and registration information in the days ahead.
---
UF ranked No. 1 nationally in innovation impact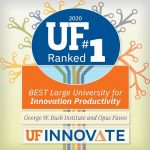 The University of Florida is the most productive large university in the country at leveraging its research funding into new companies, new jobs and new ideas, according to a report released last week by the George W. Bush Institute and the Opus Faveo Innovation Development consulting firm.
A team of economists and business development experts ranked 195 universities for innovation impact, purely on volume, using data from the Association of University Technology Managers and other sources.
Read the full UF News story.
---
As UFOLIO enters second year, new program introduced to provide guidance, support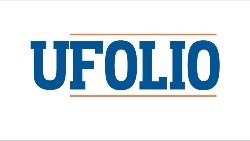 Since 2018, research institutions across the U.S. have faced increased scrutiny and concern from federal agencies over the threat of foreign influence in taxpayer-funded research. Earlier this year, Florida lawmakers proposed new legislation that imposes serious penalties on university employees for failure to timely disclose required outside activities and financial interests.
In this environment of heightened external pressure, UF has established a Conflicts of Interest (COI) Program to oversee the development and implementation of UFOLIO, UF's new online disclosure system. The COI Program represents an important step in UF's continued commitment to transparency, accountability and shared responsibility as a steward of the public trust.
On June 22, UFOLIO reached full implementation status and is now live for all UF employees with a .26 FTE or greater faculty appointment. The COI Program would like to thank everyone who participated in the UFOLIO pilot program. Without your critical feedback, it would not have been possible to reach this milestone before the end of the fiscal year.
Read on to learn more about the new COI Program and how it supports UF employees in fulfilling their personal disclosure responsibilities under state and federal law. You can also find a range of instructional materials and resources on its website at www.coi.ufl.edu.
---
Feeling anxious about returning to work?
Returning to work during the COVID-19 crisis is an additional stressor for many people during these uncertain times. UF Health psychiatrists Drs. Jody Brown and Carol Mathews discuss some ways to manage return-to-work anxiety.
---
Visual cues to help create caring spaces and manage expectations in your office
The UF Health Creative Services team has provided a variety of signs for you to download and print yourself or have professionally printed, depending on your office's needs. Below are just a couple of our favorites. You can download these others to meet your needs on the UF Health Screen, Test & Protect website.