March 31, 2020
https://www.facebook.com/uflorida/videos/2640635659381022/
Last night, UF President Kent Fuchs shared a message to the UF community regarding the coronavirus (COVID-19). Watch the video above or find it at  https://www.facebook.com/uflorida/videos/2640635659381022/
---
Researchers making an impact
UF experts and leaders are at the forefront of addressing COVID-19 in our community and helping people across the country with their research and programs. Here are some names in the news you might recognize.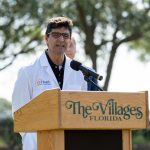 Michael Lauzardo, M.D., deputy director of the UF Emerging Pathogens Institute and an associate professor in the Division of Infectious Diseases and Global Medicine at the UF College of Medicine, harnessed the expertise of UF health science students to conduct coronavirus tests recently at The Villages® retirement community.
---
Early findings from COVID-19 testing in The Villages® encouraging; experts urge vigilance
University of Florida Health experts and their collaborators completed over 2,000 COVID-19 tests in The Villages® last week. While the number of positive cases is still low, experts urge continued vigilance to reduce the risk of community spread.
A team of volunteer UF Health medical professionals together with personnel from The Villages Health primary care network evaluated 2,280 people who preregistered for an appointment. Testing was done for people with and without symptoms associated with COVID-19. Find the full story at https://ufhealth.org/news/2020/early-findings-covid-19-testing-villages-encouraging-experts-urge-vigilance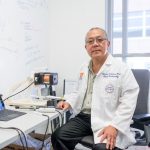 Samsun Lampotang, Ph.D., Joachim S. Gravenstein Professor of Anesthesiology in the UF College of Medicine and director of the UF Center for Safety, Simulation & Advanced Learning Technologies, has worked with his team to devise a ventilator from common hardware store items and has made it available as an open-source project, meaning everyone who has the skill and has been vetted can contribute to the design. After the ventilator is tested and validated, the design will be disseminated through the internet for use around the world.
https://www.facebook.com/uflorida/videos/2558760361048909/
Using common hardware store supplies, the above ventilators can be created for $125 and assembled in 15 minutes. Click the image to see the video on Facebook, or find it here https://www.facebook.com/watch/?v=2558760361048909
---
Secure your classes and meetings on Zoom
Keeping UF Zoom class sessions private and secure is a top priority. There are settings in Zoom you can enable to ensure the only attendees of your virtual lectures and labs are authorized to do so. To prevent uninvited guests from attending your Zoom class meetings, limit unwanted class disruptions, and block unauthorized sharing of your screen, UFIT recommends the following resources page. https://elearning.ufl.edu/keep-zoom-secure/faculty/
---
Dance Marathon raises over $2.5 million for children at UF Health Shands
When COVID-19 prevented students from holding Dance Marathon in its traditional format, they decided to go virtual! In its 26th year, Dance Marathon at the University of Florida — the most successful student-run philanthropy in the Southeast — raised $2,526,418.24 For The Kids at UF Health Shands Children's Hospital. Today, when our world needs it most, our students are persisting in the face of challenges and leaving an everlasting mark of hope that each day will be brighter than the last. https://www.facebook.com/floridaDM/videos/1478188912353654/
---
UF in the News
These are boom times for boredom and the researchers who study it
Erin Westgate, an assistant professor of psychology, and her incoming doctoral student Yijun Lin were featured in the Washington Post as among the few people in the world who research boredom. Westgate and her team are uniquely poised to be productive in her study of boredom now as people stay home to help prevent the spread of COVID-19.
"This really is a once-in-a-lifetime opportunity to hopefully learn some really important things," Westgate told the Post.
***
'I think this idea could save hundreds of thousands of lives': UF doctor creates new, effective mask from hospital materials
Dr. Bruce Spiess, a professor and Associate Chair of Anesthesiology at UF's College of Medicine, wracked his brain for days, trying to brainstorm a solution to the mask shortage at Shands Hospital.
Last Thursday night, the idea hit him: the wrapping used on sterile equipment. "It's a massive amount of material that can be repurposed out to someone else to make the masks," Spiess said.
The wrapping is commonly found in any hospital or facility where surgeries are conducted, Spiess said. After surgical instruments go through a machine to be sanitized, they are wrapped in the blue Halyard H600 two-ply spun polypropylene.
---
Share your story of academic innovation, research impact, student resiliency or staff dedication with us by sending an email to news@ufl.edu.