May 12, 2020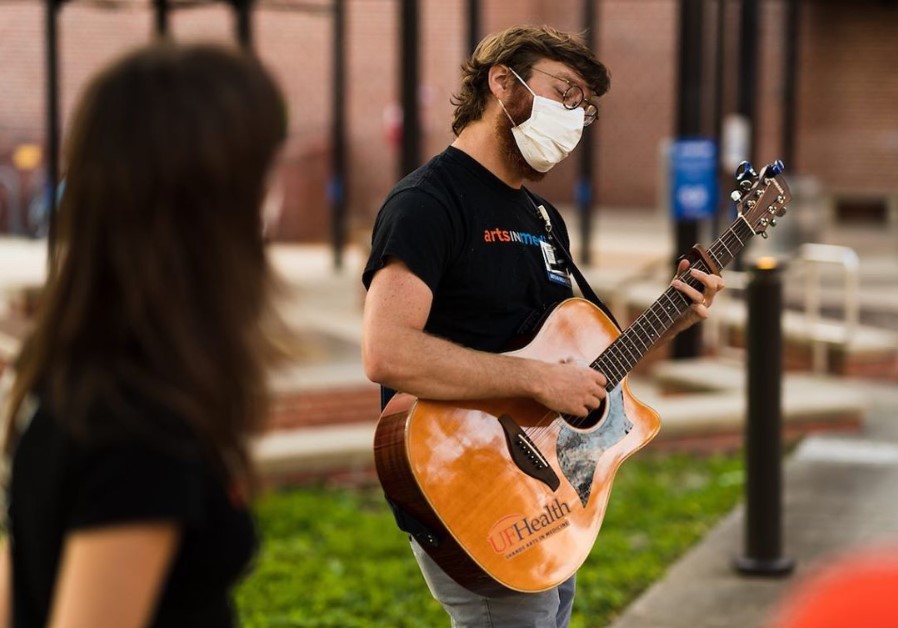 UF Health Shands Arts in Medicine serenade UF health care workers at shift change
Last week, UF Health Shands Arts in Medicine serenaded health care workers at shift change. The sidewalks were covered in chalk art from Artists in Residence.
See below for more photos from the day and check out the Arts in Medicine Facebook page for recordings of recent performances.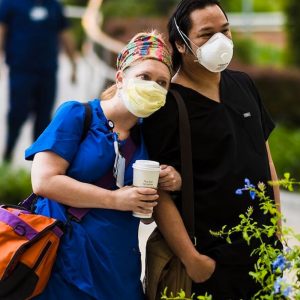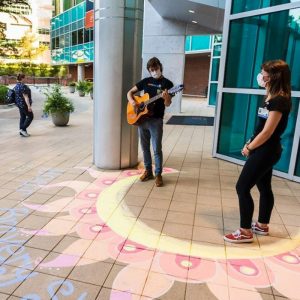 ---
UF Physics Department reduces health care workers' exposure to COVID-19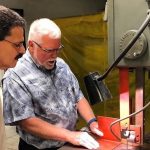 While many places on campus stand empty, the Department of Physics' Machine Shop is up and running to aid in an extraordinary effort to protect health care workers.
The Machine Shop is building a prototype for a device that would decontaminate the atmosphere around COVID-19 patients during procedures that pose a heightened risk to health providers.
UF Physics is currently working on the device with collaborators from across campus including the College of Medicine, the College of Engineering, the College of Public Health and Health Professions and the Emerging Pathogens Institute.
Read the full UF Liberal Arts and Sciences article here.
---
UF medical students create a website to thank health care workers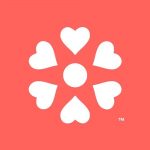 A team of University of Florida medical students have created a virtual way to give thanks — the 6FTCloser.com website, where users can post videos to essential workers who are putting themselves at risk of catching COVID-19.
People can nominate a friend, family member or colleague to receive a video then those who want to make a video for someone are matched with a nominee.
"When you see stories about doctors and nurses who can't be with their families right now — there is that part of it where you have to make a sacrifice, but that's what we went into this for," Kathryn Thompson, a 6FTCloser team member said. "We're excited about the prospect of helping people."
The 6FTCloser initiative is the second launched by UF medical students since the pandemic started. A group of third- and fourth-year students also organized a child care service for UF Health employees.
To learn more about 6FTCloser, read the full article.
---
Plan for hurricane season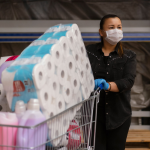 With a more active than usual Atlantic hurricane season forecast to start June 1, University of Florida disaster preparation experts say it's time to plan, not panic.
"We likely will need to take an extra step in how we do the things we know how to do to prepare and mitigate and recover," says Angie Lindsey, assistant professor in the Department of Family, Youth & Community Sciences. "We're Floridians. We've gotten through a lot before, but what we have typically done in the past during hurricane season may not work this year due to COVID-19."
Read the full Explore article here.
---
UF Bookstore in the Reitz Union is offering free shipping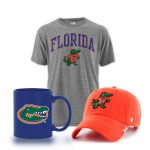 The UF Bookstore in the Reitz Union is open Monday through Friday, from 9 a.m. to 4 p.m. The UF Bookstore is also offering free ground shipping for all online orders.
Shop the UF Bookstore here.