September 2, 2020
University Town Hall to provide update, answer questions
Join President Kent Fuchs and other senior leaders for a university-wide town hall today at 4 p.m. to learn more about how UF has prepared for the fall semester, why we are charting a different course than other universities, and what we all need to continue to keep in mind to provide a healthier and safer experience for our faculty, staff and students.
President Fuchs will be joined by Provost Joe Glover, Senior Vice President and COO Charlie Lane, Vice Presidents Jodi Gentry and D'Andra Mull, and Screen, Test & Protect Director Michael Lauzardo.

Join us via Zoom today at 4 p.m.
---
UF's COVID-19 Research and You
Researchers at UF and throughout the world have been working around the clock to help fight the COVID-19 pandemic. Learn what UF researchers are doing and how that research could ultimately help our community. The UF Clinical and Translational Science Institute (CTSI) is focused on COVID-19 by taking research discoveries from the lab into the real world.
Join UF Assistant Vice President for Research and CTSI Director Duane Mitchell, MD, Ph.D, for a UF Health webinar today at 11:30 to learn more.
---
Helping students manage risk while reducing loneliness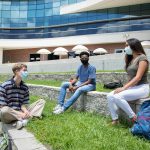 If you see a group of students clustered together on campus, what you may be witnessing is the outcome of UF's efforts to help students manage their contact with others in a carefully measured way through the establishment of "QuaranTeams."
A QuaranTeam is a group of individuals who choose to socialize together and follow a mutually agreed upon set of guidelines during the pandemic. QuaranTeams may comprise groups of students such as roommates, members of a shared organization or team, or family members.
To learn more about how UF is introducing QuaranTeams to students, check out this Division of Student Affairs brochure.
---
Masks, sanitizer available throughout campus vending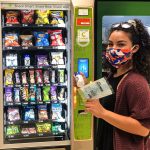 UF and its vending partner, Canteen, are offering disposable masks and hand sanitizers for sale in more than 50 vending locations throughout campus. The machines and hand sanitizing stations are located in academic and administrative buildings, student residence halls and recreational facilities.
An individually wrapped disposable mask will be sold for $1.50, while a 4 oz. bottle of hand sanitizer will cost $3.50. A 50-cent discount on the products is provided to anyone using their Gator 1 Card.
A full list of vending locations is available on UF Business Services' website.