September 9, 2020
Learn about how UF is working to improve faculty and staff benefits and services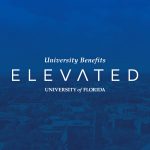 This Thursday at 2 p.m., you're invited to join an online town hall to learn more about how UF is elevating its suite of benefits offerings and services to better support the wellbeing of our faculty and staff and to be more responsive to a range of individual and family needs.
Topics to be covered will include new paid parental and medical leave programs, additional support for working parents, a transition to a more progressive paid time off model, and improved administration of UF-sponsored investment services.
To join the conversation, log in to Zoom this coming Thursday at 2 p.m. at https://ufl.zoom.us/j/98701866506. A recording of the presentation will be available after the event if you are unable to join in person.
---

Did you miss last week's University Town Hall?
If you were unable to tune in, you can now view the recording here.
To view previously recorded town halls held throughout the summer, visit the Working Through COVID-19 section of the UFHR website.
---
GatorSafe app puts safety resources at your fingertips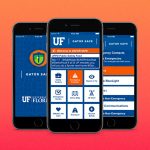 The GatorSafe app makes it easier to report tips to the UF police department, make emergency calls and access other safety features specific to the UF campus. You can also now use the GatorSafe app to report concerns related to COVID-19, including students not adhering to mask guidelines or physical distancing, locations running low on hand sanitizer, or parties on or near campus.
You may choose to remain anonymous or identify yourself when reporting. Download the app via Google Play or from the Apple App Store.
---
Application deadline for UF Academy is this Friday
The UF Academy for Emerging Leaders will offer its program virtually for the 2020-21 academic year. Designed for emerging leaders at UF, the nine-month program offers an immersion in the culture and organizational structure of our institution.
Kevin Otto, professor and senior associate chair of the J. Crayton Pruitt Family Department of Biomedical Engineering, participated in the 2019-20 UF Academy class. Otto believes the individual development gained through the UF Academy helps lay the foundation for the future university administration as UF continues on its rise to national and international preeminence.
"The integrated approach to management training, UF institutional structure training, interviewing UF leadership, visiting with state and local leaders in Tallahassee, and self-assessment provide a broad experiential learning opportunity to develop UF-specific leadership skills," said Otto.
Visit the Leadership at UF website to learn more and to apply today.