HEO provides children of TEAMS staff access to a college degree
Few things in life can so drastically alter a child's future like access to post-secondary education. Many families willingly go into debt in order to provide their child the opportunity to receive a college degree. The University of Florida intrinsically understands this and — in order to mitigate the economic impact that a child's college education poses to a family — has created the Higher Education Opportunity (HEO) program.
"The HEO is a tuition assistance program for the children of full-time UF TEAMS employees," explained  Verlissa Ford, awards coordinator at UFHR Training & Organizational Development. "The only requirement to participate in the HEO program is that you are a full-time TEAMS employee — and you are eligible to participate on your first day in that role."
Created in 2003, the HEO provides tuition assistance in the form of a scholarship. It covers the in-state matriculation fees for a maximum of 132 credit hours toward an undergraduate degree. The application period opens in late September and typically closes on Nov. 1. HEO recipients are notified in late March. Originally, UF awarded 50 scholarships per year. But in 2018, based on a recommendation from Provost Glover and with support from President Fuchs, UF increased the number of scholarships to 150 per year. To date, 1,272 UF employees have been awarded the HEO scholarship for their child.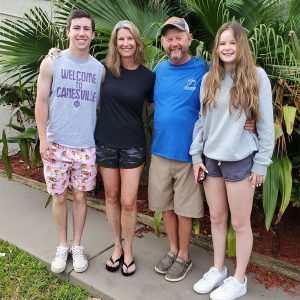 "The HEO program will be a huge help for my family to provide a college education to my son," said Julie Ramsey, Environmental Health & Safety Occupational Medicine program coordinator and a 2021 HEO recipient. "This program relieves the stress of having to worry about coming up with the money for his college tuition. I am very thankful to UF for this opportunity and for helping to further my child's education."
Though he is still weighing his options, Ramsey's son is considering pursuing a business degree at UF.
For Darla Fernandez, nutrition educator at UF/IFAS Extension Family Nutrition Program, receiving the news her daughter was awarded the HEO scholarship was an important moment in her life.
"As an employee I have looked forward to this moment, and I think I was almost as excited as my daughter," said Fernandez. "To get that email that said, 'Congratulations you just won four years of paid tuition' — that is amazing! To be a recipient means that, as a parent, I don't have to worry about tuition and can rest assured my daughter is getting the best education. I am proud to be a Gator and so happy with the great benefits offered to TEAMS employees and their families."
Fernandez' daughter has yet to pick a major but will be joining the UF Honors program this fall semester.
While the application requires that children apply for UF admission, children not admitted to the university can still benefit from the program.
"Although the HEO is structured for attendance at the University of Florida, we do recognize that not all children will be admitted to the university," said Ford. "So, if a child who was awarded the HEO is not admitted to UF, they have the option to attend a state of Florida public college or community college of their choice."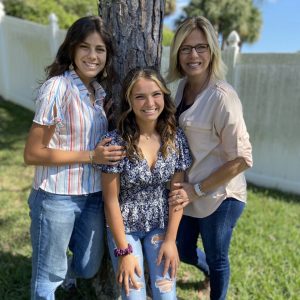 In Fernandez' case, UF was her daughter's first choice, and she was determined to not take out student loans.
"This is an exciting time in a young adult's life when there are many decisions to be made," said Fernandez. "Opportunities such as the HEO not only represent our college students of today, but they pave the way for the future of all academics. Not having to worry about the financial burden of student loans is something that heavily weighed on my daughter's decision whether to attend a specific college or university."
Beyond the tuition assistance, the HEO program stands apart from other programs due to its flexibility. For example, children awarded the scholarship may continue to use it until they turn 26 years old. They may also take a semester — or gap year — and return to the university to complete their studies as long as they have maintained a cumulative GPA of 2.75 or higher. If needed, a child may study part-time as they complete their degree. In addition, parents of multiple college-aged children may submit one child per year into the drawing.
"The HEO is not limited to a single child of the TEAMS employee," said Ford. "If a parent is awarded the HEO, they have the opportunity to submit different children into future drawings. For dual parents that are both full-time TEAMS employees, both parents can submit the same child — or different children — to increase their chances of being selected."
Fernandez is a great example of this benefit, as her oldest daughter is also a recipient of an HEO scholarship and is attending Pasco Hernando State College.
To Ford, the fact that the HEO provides access to an education that many children might not have otherwise received is of crucial importance.
"Some parents need financial support to provide their child with a college education," said Ford. "UF provides that opportunity for children to earn a bachelor's degree. Parents often speak about their gratefulness for the HEO scholarship and how this is something that their family can look forward to. It makes them feel good to know that UF cares enough about them as employees, to care about their child."