City of Gainesville to host Freedom Fest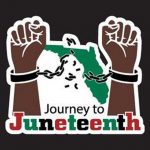 On Saturday, June 18, the City of Gainesville will host its first Freedom Fest in celebration of the time period of Emancipation Day to Juneteenth. Open to the public, this family-friendly event will include musical performances from local and regional artists, food trucks, local vendors, arts and crafts for children and more.
Juneteenth celebrations are being held throughout Florida. Find one in your area!