Empowering women in HPC and AI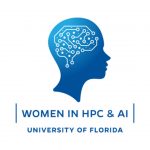 To strengthen the engagement of women involved in AI and supercomputing teaching and research, UF recently launched its chapter of Women in High Performance Computing, or WHPC. The chapter will offer educational and networking opportunities while fostering a greater sense of community across disciplines for female faculty, staff and students.
To celebrate the chapter launch, UFIT is hosting the first Women in HPC and AI virtual panel on Tuesday, Oct. 5, from noon to 1 p.m. Learn more and register: https://news.it.ufl.edu/research/empowering-women-in-ai-and-hpc/.