Washing Away History panel discussions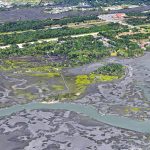 The Resilience: Black Heritage in St. Augustine project is a year-long celebration of the history and culture of Black Americans living and working in St. Augustine. As part of the project, the George A. Smathers Libraries and the Lincolnville Museum and Cultural Center hosted virtual panels on Fort Mose, the first legally sanctioned free Black town in present-day U.S.
Learn more and watch the panels: https://www.floridamuseum.ufl.edu/events/blog/washing-away-history-panel-discussions/.