Faculty 500: One year later
Beginning early last year, UF set out to achieve two primary goals through its Faculty 500 initiative: Reaching top-five public university status by strengthening various research disciplines and improving its student-faculty ratio from 20:1 to 16:1.
In the past year, more than 750 faculty members have been hired, including 231 new faculty positions throughout the university's 16 colleges as part of Faculty 500. Nearly 10,000 applicants from all 50 states and roughly 100 countries have applied to answer the call for new faculty.
To help facilitate these searches, UF Human Resources implemented Interfolio, an applicant tracking system designed specifically for faculty searches, and launched the Strategic Talent Group, an internal search team with a primary focus of attracting and hiring the best talent and driving efficient and strategic search solutions at UF. Since July 2017, the Strategic Talent Group's efforts have resulted in $441,000 in cost savings for the university. Faculty applicants increased by 146 percent from 2013 to 2017 and by 34 percent from 2016 to 2017.
To assist with recruiting efforts, UFHR partnered with UF Strategic Communications and Marketing to produce the "Find Yourself Here" printed recruitment brochure and launched a Faculty 500 website at faculty500.hr.ufl.edu. If you or your department would like to request copies of the printed brochure for your searches, please email employment@ufl.edu. A Faculty Search Committee Toolkit also was enhanced with resources to help departments attract, identify, engage, evaluate and hire the strongest candidates.
UFHR has also created a Dual Career Task Force with local businesses to address dual career obstacles. UFHR, UF Advancement, Exactech and InfoTech will host a Dual Career Roundtable on March 22 from 12:30 to 2 p.m. in the Warrington Conference Room at Emerson Alumni Hall to discuss developing a community partnership to address dual career hiring. To attend and to reserve a parking spot, please RSVP at talent@uff.ufl.edu by noon on March 21. A food truck will be available starting at noon if anyone would like to arrive early to buy lunch.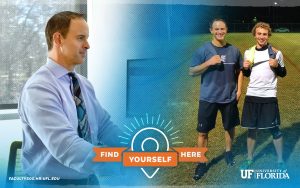 We've also started social media recruiting with active accounts on Twitter, Facebook and LinkedIn. If you have faculty job postings you'd like us to spread the word about, please tag us in your posts or email us at employment@ufl.edu. Most recently, we have also launched a "Find Yourself Here" social media campaign, which we encourage you to check out. We've been asking UF faculty and staff what they love about living and working in Gainesville, and we want to hear from you too! Share what makes Gainesville a great place to live as well as photos of you out enjoying this great place we call home. Find us on Facebook and Twitter and consider tagging your post #findyourselfhere and #faculty500.