UF's Center for Humanities in the Public Sphere offers summer writing support
For the last two years, UF's Center for Humanities in the Public Sphere (CHPS) has kicked off the summer with a week-long Writing Retreat for faculty and graduate students with humanities writing projects. For eight hours a day, forty participants sit in the bucolic study at the Austin Cary Forest Learning Center, pounding out fellowship proposals, peer-reviewed articles, dissertation and book chapters– the stuff of humanities research– with short breaks for food and fellowship. The hugely popular retreat has turned away applicants each year.
While this year's in-person retreat had to be cancelled. CHPS Director Barbara Mennel did not want humanities faculty to miss the opportunity to jump-start their summers with a week focused on writing. So she pulled together a virtual substitute. Each day kicked off with a Zoom meeting where participants set daily writing goals– write for so many hours, complete this section of the chapter, etc. Participants paired up to check in on one another via email during the day and signed out each afternoon on a discussion board with notes about what they'd accomplished today and what they hoped to do tomorrow.
A playful element emerged when Mennel planted the sign from last year's event at Austin Cary in a participant's yard one morning before the Zoom meeting. He, in turn, took it to another participant's house the next day. At present, the sign is migrating across Gainesville, marking the spots where UF Humanities researchers are forging ahead with their work despite corona's best efforts to stop them.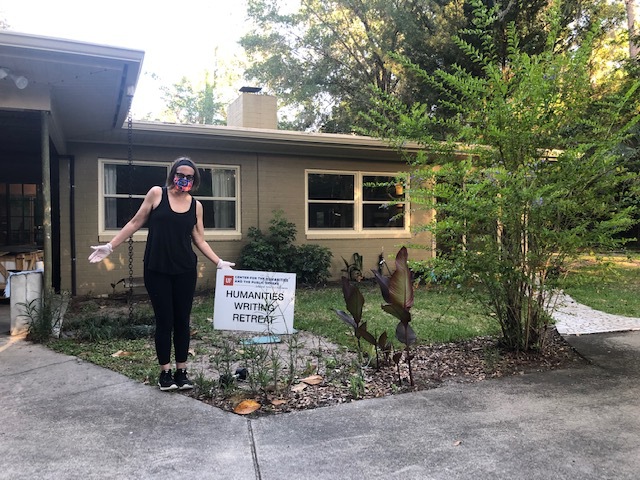 Improving research productivity is the official goal of the CHPS Writing Retreat, with building community a close second. This year was no exception. Even in their attenuated electronic communications, researchers supported one another in thinking through scary questions: How might the pandemic change– or even make irrelevant– our research agendas? What will happen if the publication venues on which we rely don't survive the economic crisis? And what kind of focus and rigor should we expect from ourselves and our students in times like these? While each participant pursued their own research, the collective did what humanities researchers do best: ask expansive, difficult questions about how humans make knowledge and pursue meaning–and help one another on the journey to both.
If you were not able to join this year's online retreat, you can still join the CHPS's Summer Writing Support Group by emailing mennel@ufl.edu.