Stand Up & Holler: It's Gator Nation Giving Day!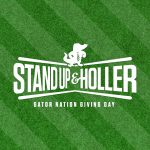 Gator Nation Giving Day is a 24-hour fundraising event, calling on all UF alumni, students, faculty, staff, families and friends to come together to support UF and all its areas of positive impact in our state, nation and world. UFHR is proud to participate in Gator Nation Giving Day through our Aid-a-Gator program and Baby Gator Child Development Centers.

Originally established to assist UF employees negatively impacted by Hurricane Irma in 2017, and completely dependent on donations, Aid-a-Gator has expanded beyond hurricane relief and became a crucial resource for many when the pandemic hit in 2020. To date, Aid-a-Gator has assisted over 400 employees across the state as they weathered a crisis. OPS employees and graduate assistants impacted by the pandemic have specially benefited from the program. Read our spotlight on Aid-a-Gator and how it's helped our campus community.

Baby Gator Child Development and Research Centers offer high quality care and education to children ages six weeks to five years. Children grow and learn in a safe and healthy environment with caring and attentive staff of well-trained early childhood educators. Baby Gator also offers educational training opportunities to UF students through internships, practicum and research projects. Learn more about UF's plans to expand Baby Gator.

Today, Gators everywhere have a chance to stand up for UF by supporting the school, department, research initiative, campus activity or UF program that means the most to them. Gifts of all sizes are welcome, and we hope you will consider donating to Aid-a-Gator and Baby Gator.