Enhance your managerial skills with new and revamped resources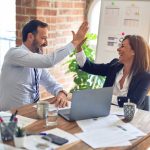 Looking for ways to improve your managerial skills? UF Training and Organizational Development, or TOD, has assembled some best practices, resources and tools that all managers at UF can use to enhance their managerial and leadership skills.
New managers can take advantage of The New Manager course, which emphasizes best practices including building trusting relationships and communication strategies. The course is offered multiple times every semester both in-person and virtually, offering participants valuable networking opportunities with managers from across the university.
All UF managers seeking to further develop their managerial and leadership skills are also encouraged to register for the Managing at UF: The Supervisory Challenge program, which provides UF leaders with meaningful information about the knowledge, skills and behaviors necessary for being an effective manager in our diverse university environment.
In addition to available courses and programs, TOD recently launched the New Manager Toolkit to equip managers with key resources to increase their self-awareness, set their team up for success and effectively manage and lead. The toolkit is available to all UF managers and includes administrative resources that support the functional/technical aspects of managing a team, as well as leadership resources to facilitate personal development of the knowledge, skills and abilities necessary of a successful manager.
New employees stepping into a managerial role will learn about and benefit from these resources from the start thanks to an automated email they will receive within 30 days of hire or promotion into a supervisory position.
Through these new and revamped initiatives, UF managers will be able to build the foundation needed to be excellent leaders at UF. If you are looking for even more resources to expand your skills, explore the resources available on the UFHR Leadership website as well as the various courses and programs available on the Learn & Grow website.
Need additional information? Contact TOD Leadership Development Professional Rebecca Younglove via email at rebeccayounglove@ufl.edu.