Strategic Communications Academy for Leaders and Scholars celebrates fifth cohort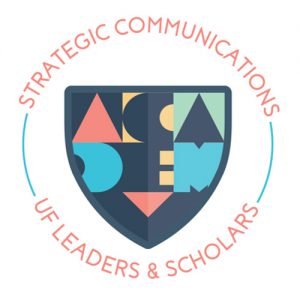 With the continued threat of the COVID-19 pandemic at the start of 2021, the Strategic Communication Academy, or SCA, training team knew the annual leadership training would have to continue online. Even though vaccines were on the horizon in December 2020, the decision to stay in an online setting alleviated potential safety concerns. In addition, after hosting the academy online the previous year, the team felt prepared to offer another valuable experience for the participating university leaders and scholars.
The SCA 2021 cohort worked throughout the nine-month course developing their strategic communication skills in an effort to build communities, communicate persuasively and drive positive change.
The Center for Public Interest Communications in the College of Journalism and Communications — in partnership with UFHR Training & Organizational Development — welcomed the fifth Strategic Communications Academy for UF Leaders and Scholars in March 2021. The cohort met one day a month for nine months.
Through interactive sessions, some homework and completion of a final project, participants learned and applied skills in the areas of storytelling, the science of strategic communications, systems thinking, message development, TED-style presentations, working with influentials and communicating inclusively.
On September 24, the SCA wrapped up its fifth cohort, with UF faculty and staff delivering their strategic communications campaigns and TED-style presentations live via Zoom. At the graduation ceremony (also on Zoom) the cohort celebrated each other's accomplishments throughout the 9-month long academy.
Please join us in congratulating our 2021 cohort.
| | | | |
| --- | --- | --- | --- |
| Michael | Amish | Associate Director of Talent Development | UF Advancement |
| Margaret | Ansell | Nursing & Consumer Health Liaison Librarian | Health Science Center Libraries, George A. Smathers Libraries |
| Hassan | Azad | Assistant Professor | Architecture |
| Sandra | Bechtel | Associate Professor, Service Chief | Small Animal Clinical Sciences |
| Stephen | Bender | Lecturer, Acting Program Director | Design Construction Planning |
| David | Blackburn | Associate Curator | Florida Museum of Natural History |
| Alnycea | Blackwell | Project Assistant | Florida Museum of Natural History/iDigBio |
| Rebecca | Clapp | Video Producer | IFAS Communications |
| Robert | Cook | Professor, Director | Epidemiology |
| Rachael | Elrod | Director, Education Library | Departmental Libraries |
| Audrey | Gainey | Director, Talent Acquisition and Onboarding | UFHR |
| David | Godwin | Director of the Southern Fire Exchange | School of Forest Resources and Conservation |
| Jessica | Grosso | Research Administrator II | Whitney Laboratory for Marine Bioscience |
| Stella | Harbilas | Communications Specialist | UF/IFAS Extension Family Nutrition Program |
| Twanna | Hodge | Diversity, Equity, and Inclusion Librarian | LB-DIRECTOR'S OFFICE-ADMIN |
| Tyler | Jones | UF/IFAS Photographer | IFAS Communications Services |
| Jessica | Long | Senior Director of Advancement | Whitney Laboratory for Marine Bioscience |
| Gus | Mazorra | Administrative Support Specialist II | Office of Interprofessional Education |
| Nia | Morales | Asst Professor | Wildlife Ecology and Conservation |
| Chris | Newsom | Assistant Director Distance Learning | Office of Distance Learning |
| Natalia | Ocasio Balbas | Communications Specialist | UF/IFAS Extension EFNEP |
| Yomiris | Reyes | Marketing and Communications Intern | Tropical Research and Education Center |
| Kirsten | Romaguera | Public Relations Specialist | IFAS |
| Samantha | Greer (Sexton) | Director of Government Relations | Government and Community Relations |
| Anna | Shavers | Marketing and Communications Specialist | Department of Epidemiology |
| Sean | Trainor | Lecturer | Management Communication Center |