2019 Superior Accomplishment Awards recognize outstanding and meritorious service
Nearly 400 employees gathered at the J. Wayne Reitz Union's Grand Ballroom on April 17 for the 2019 Superior Accomplishment Awards ceremony. The annual program recognizes staff and faculty members who contribute outstanding and meritorious service, efficiency and/or economy or to the quality of life for students and employees.
The eight university category winners each received $2,000, a commemorative trophy and tickets for themselves and a guest to enjoy a 2019 home football game in the President's Box as guests of President Kent Fuchs.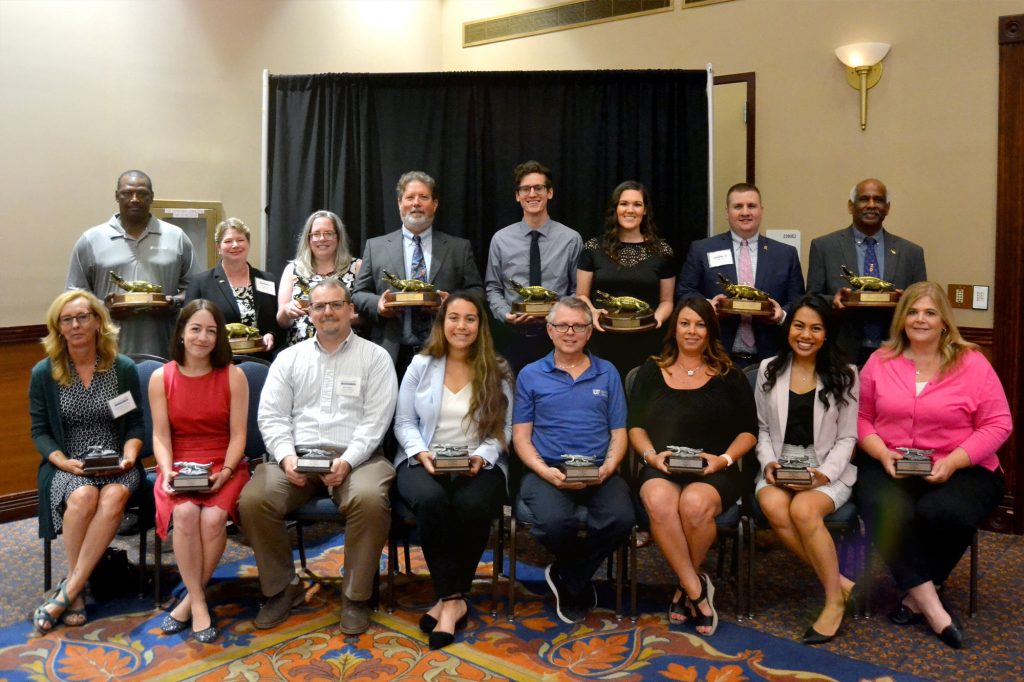 The following individuals received awards at the university-level, the Superior Accomplishment Awards' highest honors:
Clerical/Office Support: Jennifer Carpenter, Program Assistant, IFAS – Broward County Extension
Support Services: Jeff Jelks, Custodial Worker III, Student Affairs, Department of Recreational Sports
Scientific/Technical: Dean Jones, Biological Scientist III, IFAS, Center for Aquatic and Invasive Plants
Administrative/Supervisory: Drew Walker, Clinical Programs Coordinator I, College of Medicine, Pediatrics
Administrative/Professional: Mickey Howard, Associate Director, Marketing and Strategic Communications, Student Affairs
Academic Personnel: Lynn O'Sickey, Associate Director, Academic Advising Center, College of Liberal Arts & Sciences
Community Service: Allyson Haskell, Instructional Designer II, UF Information Technology
Diversity & Inclusion: Muthusami Kumaran, Associate Professor, IFAS, Family Youth & Community Sciences
Eight individuals received the Special Recognition Award. These employees were each presented with a $1,000 check and a commemorative award:
Danielle Domingo: Admin Support Assistant II, Student Affairs, Multicultural and Diversity Affairs
Amy Law: Admin Specialist I, IFAS, St. Johns County Extension Office
Markus Butler: Custodial Worker III, Business Affairs, Facility Services
Darlene Hartman: Agricultural Assistant, IFAS, Everglades Research and Education Center
Kelly Raulerson: Dental Hygienist III, College of Dentistry, Community Dentistry & Behavioral Science
Leslie Mojeiko: Instructional Designer, UF Information Technology
Kevin Morgan: Systems Admin/Programmer III, Student Affairs, IT Information Technology
AnaLee Rodriguez: Marketing Specialist, Business Affairs, Transportation and Parking Services
UF's Superior Accomplishment Awards program was developed to recognize deserving university employees. The program is coordinated by UF Human Resources. For more information and to view more ceremony photos, visit the Superior Accomplishment Awards webpage.