Bringing the UF and Gainesville community together for the betterment of all
From partnering with Porters neighborhood residents to create a community narrative to empowering those living in adverse circumstances to create and grow their own businesses, UF and the city of Gainesville have been working together on a strategic development plan to shape the university and surrounding community's future over the next 40 to 50 years, establishing the framework for the "New American City."
Earlier this year, with support from UF Health and Gainesville Regional Utilities, UF's Office of the Senior Vice President and Chief Operating Officer (COO) awarded more than $300,000 in research funds to seven UF-city of Gainesville projects that are addressing real-world problems in the local community. On Oct. 9, COO Charlie Lane and Gainesville Mayor Lauren Poe hosted a research showcase of these award recipients' vital work.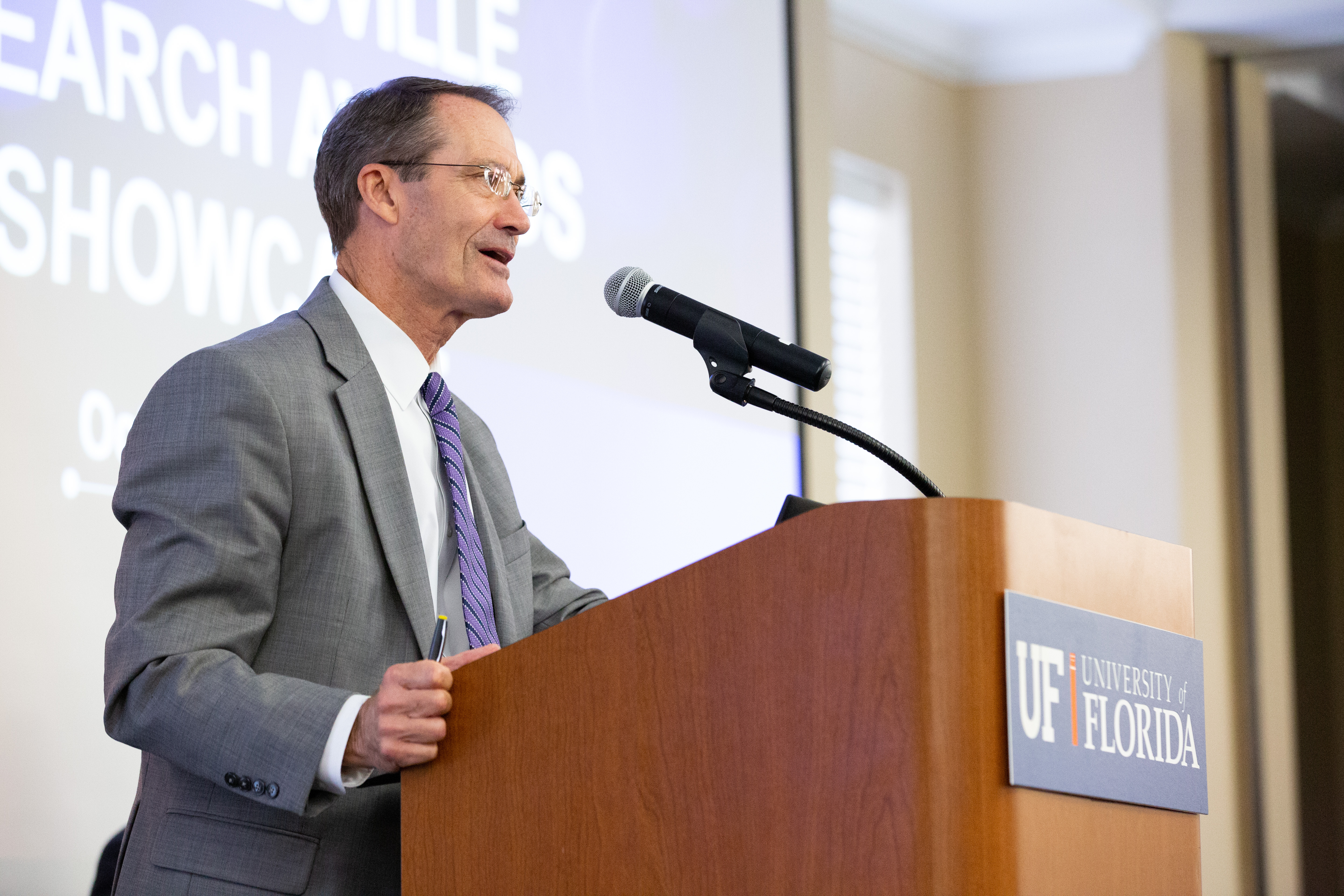 "A distinct goal of the strategic development plan is to increase collaboration between the university and the city, and to connect UF's talent and resources to Gainesville in a way that can make improvements in a number of areas," said Lane.
The call for projects earlier this year garnered proposals from every UF college. More than 60 proposals were submitted, and some of the groups that were not funded went on to pursue their projects for the good of the community anyway.
"The university wants to be a preeminent public institution," said Poe. "It can't become that without a world-class city, and the city can't be world-class without a preeminent university. The two are symbiotic."
Learn more about each of the research projects below.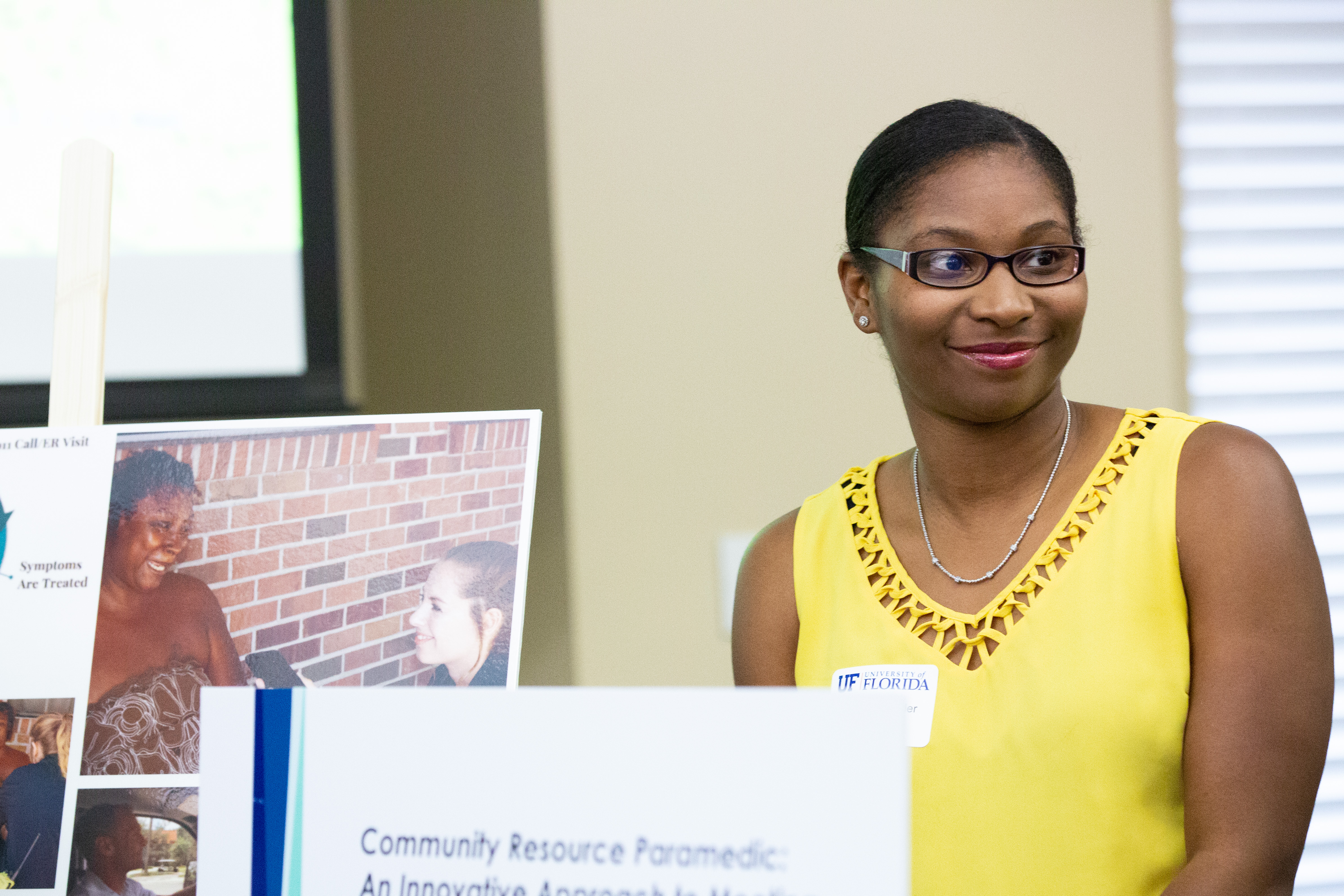 The Gainesville Entrepreneurship and Adversity Program
Principal investigators (PIs): Michael Morris and Jamie Kraft
The Gainesville Entrepreneurship and Adversity Program (GEAP) is an integrated, multi-faceted program designed to empower those living in adverse circumstances to create and grow their own businesses.
Public Acceptance of Autonomous Vehicle (AV) Technology
PIs: Lily Elefteriadou and Nithin Agarwal
This project extends existing partnerships between UF, Gainesville and the Florida Department of Transportation to understand public acceptance of autonomous vehicle technology.
Data-centric Modeling and Support of the Lifecycle of the Gainesville Businesses
PIs: Jose Fortes, Christopher McCarty, Renato Figueiredo, Erik Bredfeldt and Lila Stewart
This project investigates the use of urban informatics and data-centric information systems to gain a better understanding of Gainesville business lifecycles and how the city can optimize the support of business enterprise.
Community Resource Paramedic: An Innovative Approach to Meeting the Needs of Gainesville's Most Vulnerable Populations
PIs: Lisa Chacko, Laura Guyer and David Sutton
Championing a newer model for community-based health care, this project partners together two UF colleges and Gainesville Fire Rescue to explore practices that reduce Emergency Department visits and 911 call volumes, as well as improve quality-of-life for Gainesville's most vulnerable citizens.
Building a Partnership Between Early Head Start and the Anita Zucker Center for Excellence in Early Childhood Studies to Benefit Young Children and Families in East Gainesville
PIs: Herman Knopf and Maureen Conroy
This project seeks to expand a national outreach model to address the research-to-practice gap in early-child and education services.
Neighborhoods as Community Assets—Preparing for the Future While Protecting Neighborhoods
PIs: Kathryn Frank, Kristin Larsen, Laura Dedenbach and Tyeshia Redden
This project seeks to address a critical link between urban redevelopment, neighborhood preservation and gentrification by developing and implementing a scalable pilot citizen-participatory process to better understand these issues.
Urban Energy Model for Smart City Informatics
PI: Ravi Srinivasan
This project provides sophisticated analysis to aid local decision-making and energy management using extensive data analyzed by UF's HiPerGator high-performance computing resource.
In addition to these seven projects, Lane recognized Paul Monaghan, associate professor in IFAS's Department of Agricultural Education and Communication, for establishing the Greater Gainesville Collaboration Initiative, whose members are seeking ways to enhance community engagement. On Oct. 22 and 23, Lane, Monaghan and other UF leaders will welcome Andrew Furco, associate vice president for public engagement at the University of Minnesota, for a workshop and public lecture on the benefits, opportunities and challenges associated with community engagement by university faculty and students. For more information, visit the UF Strategic Development website.