Don't miss the UF Benefits and Wellness Fair this Thursday, Oct. 18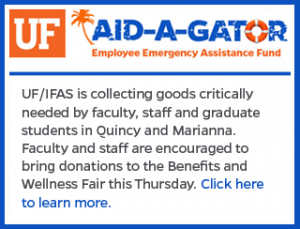 The UF Benefits and Wellness Fair will be held Thursday, Oct. 18, from 9 a.m. to 3 p.m. at the Champion's Club at Ben Hill Griffin Stadium. This annual event is a great opportunity to chat with benefit and retirement plan vendors to learn about your available options as Benefits Open Enrollment gets underway. You can also participate in health screenings, get a flu shot (bring your UFID and insurance card), discover the wellness resources available to you as a UF employee and enter to win a variety of wellness-related giveaways.
The UFHR Benefits team also will be on hand to answer your questions and tell you more about ALEX, UF's online benefits counselor. The annual Benefits Open Enrollment period began on Oct. 15 and runs through Nov. 2.
Last year, nearly 2,500 employees attended the event and received information from more than 60 tables of vendors as well as UF offices and wellness programs.
Need a ride to the fair? UF faculty and staff with Gator 1 cards can ride RTS buses for free. Maps and schedules are available on the RTS website.
Please note that residents outside of Alachua County may attend a state benefits fair in their local area; however, UFSelect, GatorCare and wellness vendors will only be at UF's fair in Gainesville. Check the DMS website for locations and dates.
Learn more about Open Enrollment, including what's new for state plans and UFSelect this year and how to avoid fraud, on this page.