Exercise, meditation and more: Summer classes to support your wellness goals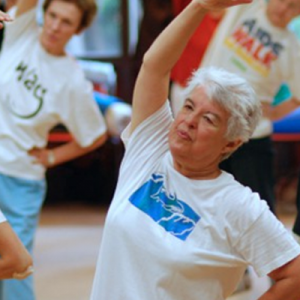 Several classes being offered on campus can help you achieve your wellness goals this summer and beyond.
Looking to start a new exercise routine? Attend free weekly fitness classes for UF and UF Health employees on Monday and Tuesday evenings for a combination of Strong by Zumba and Pound Fitness or get some fresh air on Wednesdays with an outdoor circuit training class. All fitness levels are welcome. You can view the schedule here and join the Zumba or Outdoor Fitness Adventure email listservs for updates on classes.
If it's quiet or centeredness you're seeking, Arts in Medicine at UF Health offers meditation for beginners, qigong for wellbeing and gentle yoga for health. Learn more about these and other classes here. You can also find resources from UF Mindfulness, including events, training and local meditation groups.
And if transforming your sleep behaviors is your goal, sign up for a 14-day sleep challenge to improve your sleep (and get a chance to win a sleep-related giveaway). The challenge runs June 4-27. Register here.
If you missed the latest Wellness Wednesday workshop on emotional fitness, you can view the recording here. During the monthly lunchtime event, Jim Probert, clinical associate professor and licensed psychologist in the UF Counseling and Wellness Center, presented "A Mindfulness Approach to Reclaiming and Maintaining Wellness" and shared basic mindfulness tools, including meditation, the practice of unconditional self-acceptance and other practices to cultivate living intentionally.