First summer photography contest winners announced
Keep submitting your photos for a chance to win a UF giveaway!
Thank you to everyone who has submitted photos to UF at Work's summer photography contest, which remains open through Aug. 10.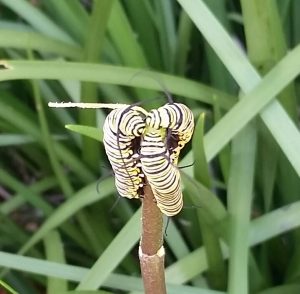 Our first-place winner for June is Michelle Van Leer of the Department of Urology in the College of Medicine, who shared a photo of monarch caterpillars enjoying some time by her pool. "Trying to help with monarch migration, we planted some milk weed and this is what we got," she wrote. "The caterpillars ate every inch of milk weed on this plant, with all three caterpillars getting to the top in a sort of 'standoff.'"
Van Leer says her favorite thing about summertime in Florida are its beautiful creatures—butterflies, birds and dragonflies included. For first place, she received a three-day paddleboard, kayak or canoe package from UF RecSports' Center for Outdoor Recreation and Education.
Our second-place winner is Darci Miller of the Department of Health Outcomes and Biomedical Informatics in the College of Medicine, who submitted a photo of the Sheikh Zayed Mosque in Abu Dhabi, United Arab Emirates (UAE).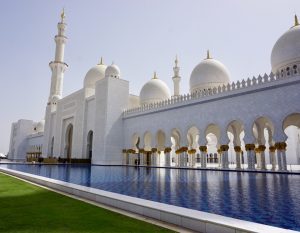 Of the trip, Miller's favorite part of her summer so far, she said: "This year, I was able to take my first international trip and I went to Dubai, Abu Dhabi and Sharjah in the UAE. It was an unforgettable trip and my favorite parts included meeting new and wonderful people, as well as experiencing all of the offerings of the great city of superlatives, Dubai."
Miller's giveaway is Cathy Salustri's book Backroads of Paradise from the University Press of Florida.
As you travel far and wide or enjoy everything Gainesville has to offer this summer, keep the great photos coming and look for the second set of winners in UF at Work next month!