Join December wellness events online or in person for some healthy holiday cheer
We're hosting two wellness events this month designed to put you in a healthy and happy holiday spirit. Join us in person or via Facebook Live for a "Seasons Eatings" event at the Field & Fork Garden on Dec. 12 and for a cozy "Ask the Dietitian" event at the Keene Faculty Center on Dec. 18.
Seasons Eatings live from the Field & Fork Farm and Garden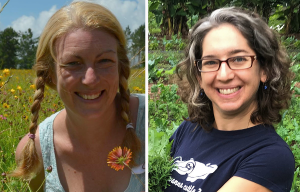 UF faculty and staff are invited to get out of the classroom and into the Field & Fork Campus Food Program's Farm and Garden for a special tour and workshop featuring Anna Prizzia and Dina Liebowitz. Learn what's growing in winter farms and gardens and get tips, tricks and great new recipes to eat fresh all season long.
Register online to attend this Wellness Wednesday presentation in person at the farm and garden on Wednesday, Dec. 12, at noon. For those unable to attend in person, you can join in online via Facebook @UFatWork.
Ask the Dietitian holiday event
Want to know more about creating nutritious holiday desserts that taste great and how to have a healthier holiday season? Mark your calendar for Tuesday, Dec. 18, at noon, put on your ugliest holiday sweater and join us at the Keene Faculty Center or via Facebook Live for a cozy holiday event featuring nutritionist Bridget Besoner. We'll sample winning recipes from our Flour Power contest, answer your questions and discuss tips for getting through the holidays the healthy way.
What are your biggest challenges when it comes to holiday eating? Let's chat! Submit your questions here and join us for answers and some holiday cheer.