New TEAMS titles resulting from UF On Target initiative to take effect April 22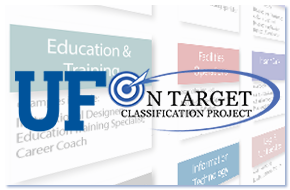 In March, the UF On Target project team completed its review of position information submitted to the UF On Target file last December.  As of March 31, more than 5,000 positions have been approved for implementation in myUFL.
During the review process, the project team notified campus human resources representatives of positions that required additional information. In some cases, the project team provided an alternate title recommendation. Over the coming weeks, the project team will continue to work with units to finalize the outstanding positions.
Employees will begin receiving notifications of their new titles as well as any other pertinent information regarding the position change beginning the week of April 11. These position changes will be effective in myUFL on April 22.
As part of the UF On Target project, all TEAMS titles and descriptions have undergone a careful review by the department- or college-level admin as well as the On Target project team.  If, upon receiving notification of their new title, an employee has concerns, he or she should speak with a supervisor or the college or unit's human resources representative.  If concerns persist following this discussion, employees may request a final review by UF Human Resources Services via the Final Review Request online form.
We expect the new titles will more accurately reflect the important work performed on behalf of the university. In turn, the new classification system will facilitate better performance feedback, identify training and development options, and define potential career paths and promotional opportunities.  Questions? Please contact the UF On Target Project Team at ontarget@ufl.edu.