UF Health to bid farewell to two pivotal leaders
David Guzick, Senior Vice President for Health Affairs and President of UF Health
On July 1, Dr. David Guzick stepped down from his role as senior vice president for Health Affairs and president of UF Health.

"Dr. Guzick's leadership over the past nine years has been transformative," wrote UF President Kent Fuchs. "He has created a culture of excellence and defined a vision for the future that has inspired our entire university. Rather than settling for regional excellence, he has led UF Health toward national leadership in research, education and patient care."
Major accomplishments include creating a culture of collaborative partnership between faculty and the hospital and between health science colleges and the entire university, as well as adding more than 1 million square feet of new construction for patient care, research and education.
Dr. David R. Nelson, assistant vice president for Research and director of the Clinical and Translational Science Institute, will serve as interim senior vice president for Health Affairs at UF and president of UF Health.
Michael Good, Dean of the College of Medicine
Dr. Michael Good, dean of the UF College of Medicine, recently announced that he has accepted a new role with the University of Utah as senior vice president for Health Sciences, CEO of University of Utah Health and executive dean of the University of Utah's School of Medicine, effective this fall.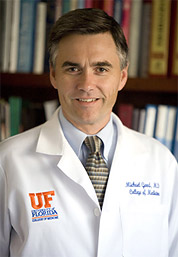 "His demonstrated leadership skills and business acumen will be missed here at the University of Florida, where he and his colleagues have a proven track record of achievement that has helped shape our aspirations and drive our journey as a great university," wrote Fuchs.
After completing his residency training in anesthesiology and a research fellowship at UF, Good joined the faculty in 1988. He has served as dean of the College of Medicine since 2008. Prior to that, he held leadership positions as the college's senior associate dean for Clinical Affairs and chief of staff for what is now known as UF Health Shands Hospital.
UF will launch national searches for both positions. Dr. Adrian Tyndall, chair of Emergency Medicine at the UF College of Medicine and physician-in-chief of Emergency Services for UF Health, has been named interim dean of the college, effective July 30.