UF research spending at record $960 million in 2021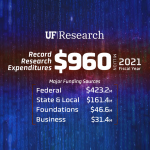 UF faculty conducted a record $960 million in research during fiscal year 2021, according to data submitted to the National Science Foundation (NSF). UF's submission to the NSF's annual Higher Education Research and Development survey reported a $17.8 million increase over the previous record of $942.2 million set in 2020.
"Even amid persistent uncertainty about the pandemic, which plagued everyone last year, UF researchers continued to pursue new insights and discoveries that will impact the lives of patients, farmers, entrepreneurs and countless others for years to come," said David Norton, Ph.D. , UF's vice president for research.
Visit the UF News website to learn more.