Claiming a space for community with the Latinx Staff & Faculty Association
On the morning of March 27, 2001, faculty, staff and students walking by University Avenue were met with shock as they discovered a racial slur spray painted on the walls of La Casita. The incident occurred after UF Levin College of Law student Gil Sanchez announced his candidacy for Student Government President, making him the first Latino to run for the position at the University of Florida. Protests across campus erupted and the incident became the catalyst for the creation of the first Hispanic staff and faculty association at UF whose goal was to combat racism and bigotry.
Throughout the years, however, the group saw a decrease in engagement, and it wouldn't be until 2016 — when racial tensions increased across the country — that staff and faculty across campus came together once again to reestablish the association. It would take another year before it launched under the name UF Latinx Staff & Faculty Association, or LSFA.
"Latinx faculty and staff kept mentioning the need for an affinity group," recalls Rosana Resende, Ph.D., former Center for Latin American Studies lecturer, LSFA founder and current U.S. Department of Sate Foreign Service Institute chairperson. "It wasn't until the summer of 2017 when people came together to make it happen. A year later, a group of dedicated folks helped us develop the bylaws and by the fall of 2018 LSFA was officially incorporated."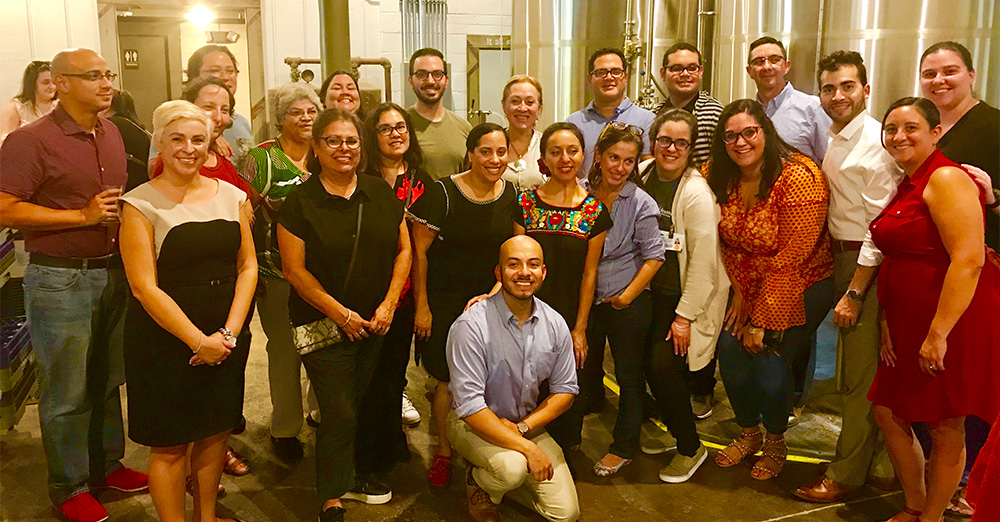 For many, the association became more than just a place to gather and network.
"We wanted to get more visibility as a group at the university, work with the community, and provide support and mentorship to students — especially undocumented ones," recalls Lenny Ureña Valerio, Ph.D., former Center for Latin American Studies associate director, LSFA founder and current associate director for program development in the Latin American and Iberian Institute.
At its core, it is the desire to create a community of belonging and inclusion that motivates LSFA members.
"The catalyst for the association came from wanting a sense of belonging and community that was missing at a time when tensions were high and there was a lot of divisiveness around us," said Cecilia Luna, communications specialist at the Student Health Care Center and LSFA staff co-president.
For Cecilia Suarez, Ph.D., assistant professor in the Department of Agricultural Education and Communication and LSFA faculty co-president, the association has become an integral part of her UF experience.
"I'm one of the few faculty members of color in my department, and I was looking for a place to feel like I could connect," said Suarez. "This association gave me the opportunity to do just that. This was a place where I could voice any celebrations but also any challenges I faced with being a tenure-track faculty of color."
From the outset, LSFA launched several programming initiatives that brought together Latinx staff and faculty from across campus — all of it with the goal of creating a community of members that support and uplift one another.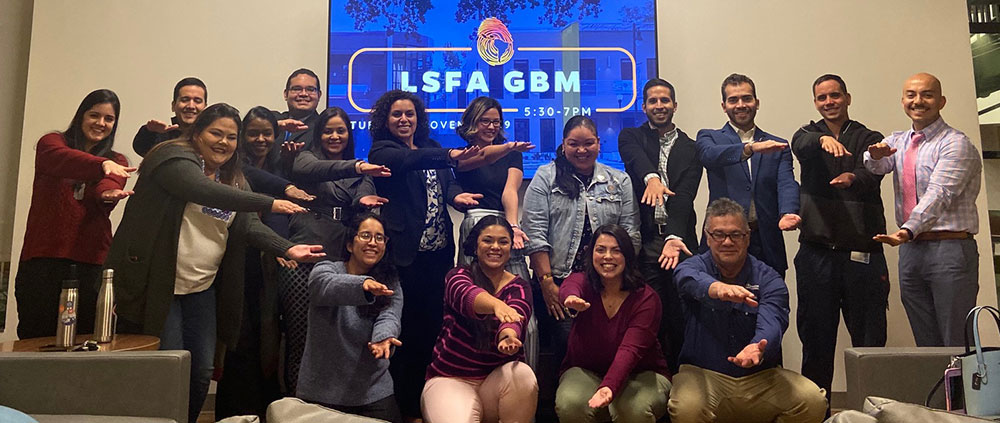 "Latinx communities tend to lean more collectivist, so our group is intended to provide and build a community that affirms our various identities," said Abel Gilbert, development coordinator at the UF College of Dentistry and LSFA treasurer. "Programming around HR benefits and familial support resources makes sense for our community because we are, in general terms, family-oriented."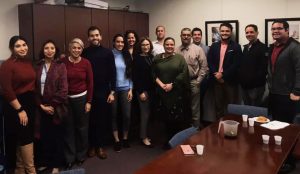 One of LSFA's initiatives is Cafecito & Chat, where members get together to drink coffee, discuss any concerns or challenges they face and celebrate their accomplishments.
"Cafecito & Chat is open to anyone who would like to join us," said Candice Vogtle, administrative specialist for the College of Public Health & Health Professions and LSFA secretary. "Pre-pandemic, we would get together as a group. Now we still meet and drink coffee, but we just do it over Zoom!"
One aspect that is always present in LSFA events is the inclusion of family.
"We love doing programming that brings families together; that's a key part of our culture and community," said Suarez. "Last year, we hosted a paint night where members and their families came together virtually to paint and have a great time."
As part of its programming, LSFA also seeks to connect, collaborate and uplift other partners across campus. One of their biggest initiatives is a summer picnic, which is held in collaboration with the Association of Black Faculty & Staff at UF.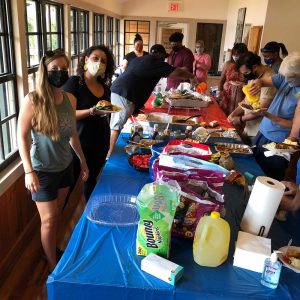 "I really love that our picnic is not just our group, but that it connects with another affinity group and brings so many people of color together in one place," said Diana Saiz, associate director of business career services at the Warrington College of Business and LSFA membership coordinator.
The idea of cross-cultural collaboration is one that Luna sees as key to ensuring LSFA is inclusive and representative of all members.
"When we think of efforts related to diversity and inclusion, we always want to think about intersectionality," stated Luna. "We want to be intentional about representation and not see our identities as monoliths, but always working together."
With the onset of the pandemic, much of their programming shifted to concentrate on information and resources they could provide regarding COVID-19.
"There are communities who are not getting the information they need to stay safe," mentioned Suarez. "So, over the past year we've focused on getting COVID-19 information, safety protocols and resources to the forefront of what we were doing."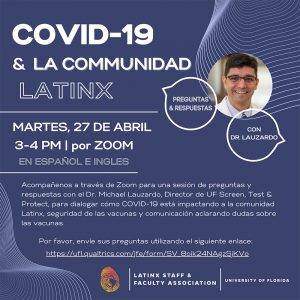 Some of the initiatives included distributing face masks to members and holding webinars featuring HR representatives that tackled childcare and family resources. One of their main events was a Spanish Q&A with UF Health Screen, Test & Protect Director Dr. Michael Lauzardo, in which he discussed the effects of COVID-19 on the Latinx community.
"We were very intentional about getting a provider who spoke Spanish," recalls Luna. "We have members who only get to speak their native language when they come to our events. For this event, we were able to not just talk about the pandemic but hone in on the issues affecting our community."
What the future holds for the association remains to be seen. The executive board members have many ideas they hope to pursue, including forming connections with Latinx businesses in Gainesville, expanding initiatives around families and growing its member base.
"The association is open to all folks who are interested in helping advance the Hispanic and Latinx staff and faculty experience at UF," said Luna.
One thing that's certain is that the staff and faculty who came together to form LSFA were successful in creating the community they searched for back in 2016.
Vogtle summed up this success in a simple statement, "We are here, we are active and we will continue to build on to the momentum from our founding members to have a bigger presence at UF."
---
LSFA Executive Board
Cecilia Suarez, Ph.D., Agricultural Education and Communication assistant professor, faculty co-president
Cecilia Luna, Student Health Care Center communications specialist, staff co-president
Diana Saiz, Warrington College of Business associate director of business career services, membership coordinator
Bianca Quiñones, Multicultural and Diversity Affairs program director for Hispanic/Latinx Affairs, social chair
Candice Vogtle, College of Public Health & Health Professions administrative specialist III, secretary
Kimberly Zelaya, College of Public Health & Health Professions associate director of development, staff president-elect
Abel Gilbert, College of Dentistry development coordinator, treasurer
Interested in joining the Latinx Staff & Faculty Association? Complete their membership form!
---
Looking for ways to get connected at UF or in our community? Check out the Get Connected directory to find kindred spirits and opportunities to explore new interests.