Coming full circle: Debra Anderson's journey at the University of Florida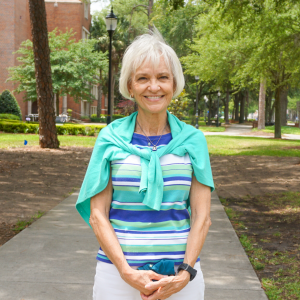 From waiting to be let into her office to finally having a key to the building, Debra Anderson's journey at the University of Florida spans 26 years and is influenced by the dedicated staff she met along the way and her drive to create a support unit for UF's international students.
The former director of UF's International Student Support Services retired on May 31, and we recently sat down to talk with her about her career path at UF.
A challenging start
Anderson arrived at the University of Florida as a spousal hire in the summer of 1996. Her first position on campus was as benefits specialist for UF Human Resources, at that time located in Yon Hall in the Ben Hill Griffin Stadium.
"Because of my then-husband's work, we were always at school by 7:30, and back then I had to sit in the hallway because employees were not allowed in the office until five to eight," recalled Anderson as she reflected on her first year on campus.
Anderson's job at HR, however, was not the ideal position she originally had in mind.
"To be honest, I cried for the first two months. I really like working directly with people; I'm oriented that way, and at first I didn't think I had that in that role," said Anderson. "But then Connie Watson took me under her wings and became like a mentor to me. I realized I was working with faculty and staff that were struggling to acclimate to a new environment, and I was there to guide them through the process and help them."
Constance "Connie" Watson, a former HR benefits specialist who is now retired, not only mentored Anderson during her time at HR, but also created a supportive work environment that enabled Anderson to thrive professionally.
Fortuitous connections
Throughout her four years working for UFHR, Anderson also fostered connections with various faculty and staff on campus. Two individuals in particular stand out to Anderson as having helped launch her career at the UF International Center, or UFIC.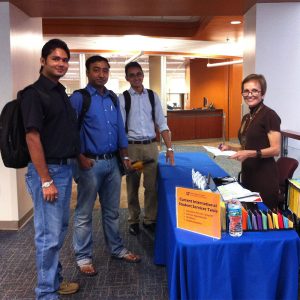 The first was Lynn Frazier, who Anderson helped enroll in benefits when she first arrived in 1997 and formed a collegial relationship throughout the next couple of years. Frazier became UFIC's executive associate director in 1999 and interim dean in 2008.
The other connection was Anderson's co-worker and friend Antoinette d'Assomption, who originally worked as an OPS employee with Anderson in the benefits unit. D'Assomption later took on the position of international student advisor at UFIC.
These two connections came full circle in 2000, when Anderson was hired as co-director for international student services. Two weeks into her new role, however, Anderson's co-director left UF, prompting d'Assomption to step up as Anderson's mentor, guiding her through the complicated immigration regulations and processes she had to learn as part of her position.
"We were originally five in the unit and had over 8,000 student records to manage. Back then, we were still typing I-20s and DS-2019s on typewriters," said Anderson, referring to her original unit that included d'Assomption, admissions specialists James Schwartz and Dianne Fisher, and front desk receptionist Maud Fraser. Anderson credits Fraser for not only being a guiding force from the start but having assisted her throughout the years.
Unexpected changes, incredible contributions
The events of Sept. 11, 2001, however, brought a slew of changes to the small unit. After the attack in New York, a series of laws and regulations governing international students that directly impacted universities were introduced. The U.S. Department of Homeland Security also launched the Student and Exchange Visitor Information System in January 2003, to maintain host institutions' international student and exchange visitor information.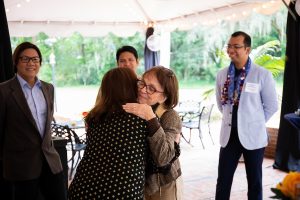 "They said all schools had to be online by 2003, but their system didn't even work properly," said Anderson. "We had to manually input thousands of records, and we would often be on the phone with their help desk for two hours trying to get things done. The whole team worked like crazy those couple of months."
One individual from this era stands out in Anderson's mind — Dianne Fisher. As the unit worked overtime to ensure UF complied with immigration regulations — while continuing to assist students and departments on campus — Fisher was also dealing with health issues. 
"Dianne came into my office one day and said, 'Debra, I have to go to the doctor, I'm having blurred vision.' Sadly, it turned out that Dianne had a brain tumor, but despite that she worked until just about one month before she passed away," recalls Anderson.
In 2004, when Anderson was nominated for and won a Superior Accomplishment Award, she used the $1,000 award money to establish the Diane Fisher Scholarship in honor of her colleague, who had died the year prior. The scholarship provided two $500 scholarships to undergraduate international students.
"When I think about the dedication that our staff put into their work, it's clear that these successes are not about me. We wouldn't have accomplished what we did without everyone working together," said Anderson.
Rapid growth
As more international students enrolled in UF in the years to come, Anderson's unit also grew. UFIC also went through some changes, moving from Grinter Hall to its current location in the Hub.
One of three newly hired advisors, Martine Angrand, initially joined UFIC in 2005 as an insurance advisor. Angrand went on to take on the role of director of F-1 international student compliance in 2020, when Anderson became director of International Student Support Services.
"With Debra's retirement, we will lose a wealth of knowledge and resource to the UF community, from students to the ISS team to the UF faculty and staff. I appreciate the ability to have learned from her during my time here at the UFIC," said Angrand.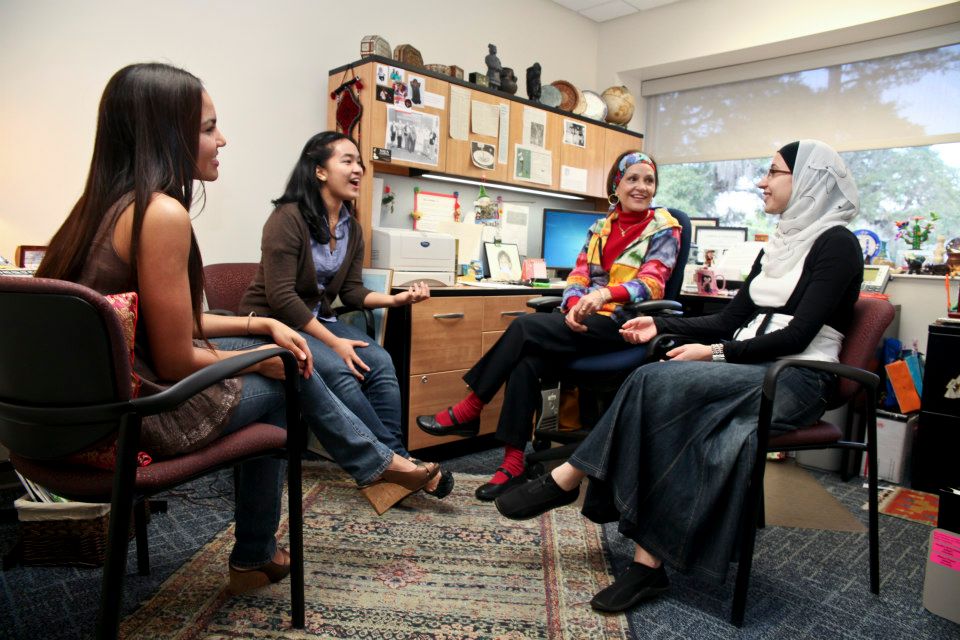 Throughout the years, Anderson's responsibilities also grew, as she became more involved with international students and sought to provide support in matters like culture shock, emotional well-being, navigating university policies and more. Oftentimes, Anderson also served as a point of contact for students' families during difficult times.
"One year, we had three students pass away. Back then, the university and UFIC would contact the families," recalled Anderson. "The brother of one of the boys that died ended up staying with me until his father arrived in Gainesville. I remember helping them deal with the repatriation and medical paperwork, going to the funeral home to arrange everything and even driving with them back to Miami."
Situations like this strengthened Anderson's drive to create a support unit for UF's international students — a unit that would be separate from strict laws and regulations, but would instead offer emotional support, needed resources and guidance for students as they arrived on campus and through their stay at UF.
Coming full circle
In July 2020, after more than two decades of work, Anderson's goal was realized with the launch of the International Student Support Services unit. Anderson's journey at UF also came full circle, as she returned to Yon Hall in the Ben Hill Griffin Stadium where the new unit is housed.
"I'm back at the Stadium, but now I don't have to sit in the hallway to be let into my office. I finally have a key to the building," said Anderson with a laugh.
Having worked so hard to establish the support unit, Anderson struggled with the decision to retire. In the end, Chandra Mitchell, former interim director of freshman and international admissions, helped ease her fears.
"When Chandra and I met for lunch, she said to me, 'Debby, you have to know that you did the best you could do, that you contributed what you could while you were there and that it's going to change once you leave. So, when you step away from that position you need to keep going and not look back.' And that's probably the best advice I got," said Anderson.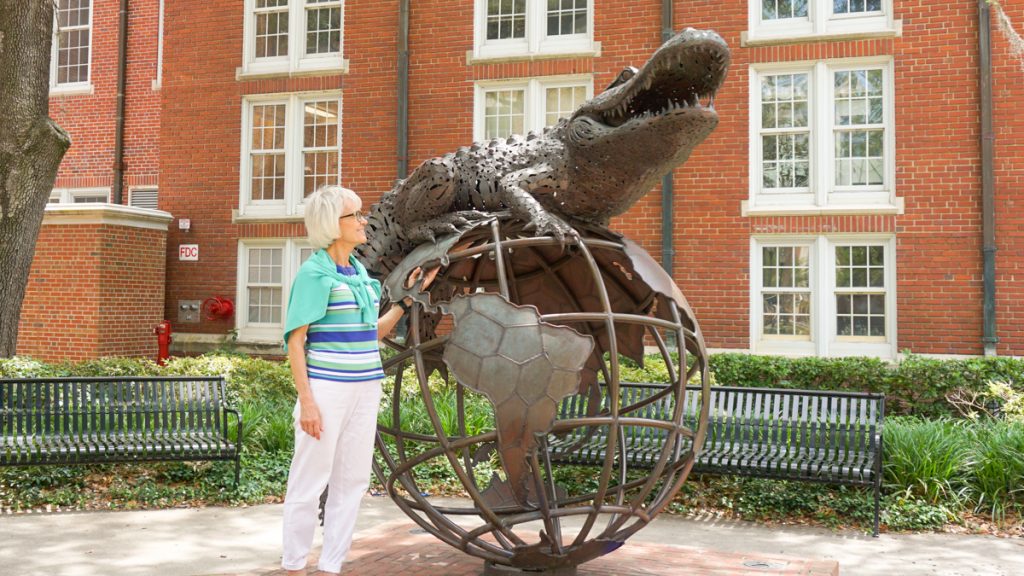 When asked about her plans after retirement, Anderson mentions spending more time with her grandchildren and becoming more active in the community and in various Gainesville committees.
"Change is inevitable, and I think a lot has to do with how we approach it," said Anderson. "But as long as we're staying true to our values and ethics and we're happy, then it's all good."