"It turns out if you really care, it makes a difference."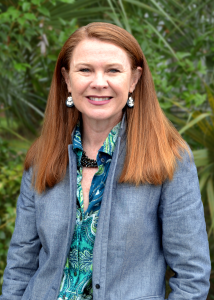 When she assumed the role of UF's vice president for human resources five and a half years ago, Jodi Gentry's vision was to help create a competitive advantage for the university through people — strong individual contributors, high-functioning collaborators and teams, and excellent leaders — where their best work would be encouraged, enabled, expected and recognized.
Jodi believed the role of UF Human Resources was to support and further foster preeminence through people. She worked to create an environment in which UFHR's programs, services and solutions would be agile, forward-thinking and bold — and led the organization in a way that ensured these offerings proactively anticipated and directly aligned with the needs of a preeminent university.
Prior to assuming the role of vice president, much of Jodi's career at UF was devoted to establishing and building from the ground up UF Training & Organizational Development, which has become recognized as one of the premier programs of its kind in higher education.
We sat down with Jodi for one final interview before she leaves UF, in which she reflected on her purpose-driven career, her version of work-life balance and her decision to make the leap into this next phase of life.
You've been with the University of Florida for 30 years. Tell us a little bit about your journey that led you here and ultimately into the role of Vice President for HR.
I moved to Gainesville to go to graduate school, and I was interested in in public relations and internal communication. At the time, I was a graduate assistant with the Graduate School. One day, when I was working there, I saw a memo go across a desk — because it was back in the days when things were still on paper — and it was from the director of HR, who was interested in doing a survey on childcare in the workplace.
My mother had been a child development major when she went to college, so I had heard her talk about how important she thought it was to support parents in the workplace. So, when I saw the memo, knowing I needed to do an internship to complete my master's degree, I reached out to HR to see if they'd be interested in hiring me to do an internship. I didn't intend to stay in HR, but after my internship, they hired me. I was the first communication coordinator for HR, and as I began to really think about what information people needed to be successful in their work, that eventually broadened to being interested in the knowledge, skills and behaviors people need to be successful in their work, which led me to move into the training and organizational development world over time.
As my job evolved, I took on additional responsibilities, and in reflecting, I think about myself as having had a purpose-driven career. As director of Training and Organizational Development and later as assistant vice president for HR, I started thinking about other systems that influence performance — whether it's your job title or an understanding of what's required to be successful — or compensation and how you pay people in a way that's fair and that also might help support or drive performance. You really need all the systems to work together to support getting an excellent person into a role, so it's also about selection. And then retention: It's all those things that you would want someone to experience, whether being paid fairly or being treated fairly or feeling like they're continuing to grow and learn and belong.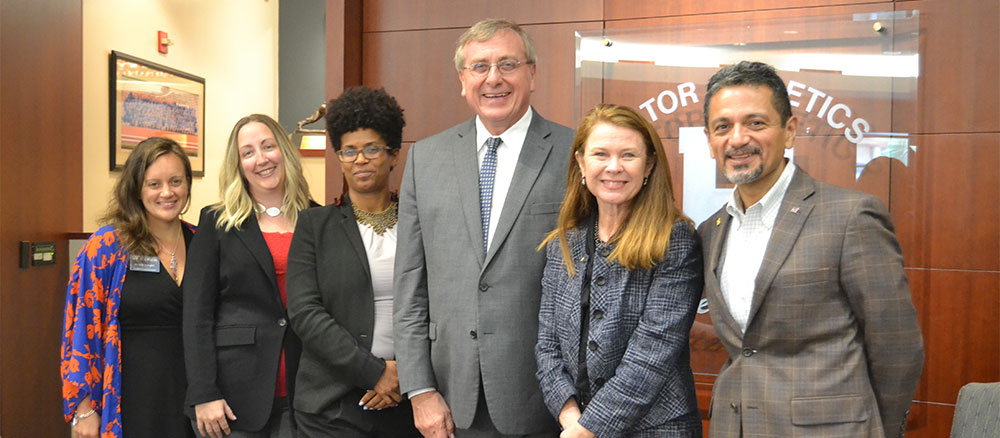 You describe your career as having been purpose-driven. Can you say a little more about your career and how it's taken shape here at UF?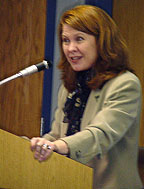 I think what has happened over the years is rather than asking for resources to do something, my philosophy has been take what you have and try to do something excellent and useful with it. And then what you find is that people tend to want to encourage you to grow, because you've demonstrated your willingness to try to do your best.
I have always felt like my greatest strength is that I am, or at least try to be, a good manager. I take leadership very seriously, but I've always said leadership without good management is an incomplete view. I've been good at hiring really great people and creating an environment where they can do their very best work.
There was a point in my career when I became aware that I was interested in doing more than just training and organizational development. I talked to the vice president at the time and said I'd like to do more, and I that I could either do that here at UF or I could do that someplace else, but I'd rather do it here. So I was given additional responsibility. I was open to learning about things that I didn't have an immediate interest in. I really want UF to be a good place for other people — and it turns out, if you really care, it makes a difference.
What are some of the achievements that you are most proud of or consider the most meaningful throughout your career?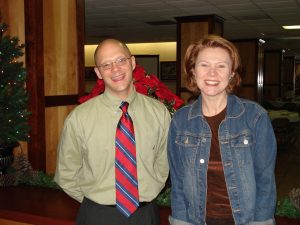 My colleagues and I in training and organizational development knew from the very beginning that this university would never be truly successful if we didn't get serious about leadership. So over years we put in place the Managing at UF certification program, but then we also worked on leadership competencies and developed the UF Academy for Emerging Leaders as well as Advanced Leadership for Academics and Professionals. And I'm proud of that, because I don't think the university can be what it needs to be if we're not serious about leadership. I can't tell you how often people at other universities ask us for our competency model, and it's generally seen as a high standard of its kind in higher education leadership development. It always makes me happy that not only are we perhaps influencing the quality of leadership that we're providing here at the University of Florida, but maybe influencing that elsewhere in the higher education sphere.
I also feel the UF On Target project was important. We took several years to create staff titles that were more descriptive, and those more descriptive titles then have allowed us to conduct robust salary analysis so that we know whether our staff are being paid fairly compared to the market. It's so important that all of our faculty and staff be paid fairly and competitively, both so they can have a good life, but also because competitive compensation positions us to be the kind of top five institution we want to be.
I am proud of how the Communication and Worklife team has stepped in to address internal communication in a way that has been helpful to campus and gives us a way to stay connected as a community. I'm also proud of the shift in our staff performance appraisal system. I know not everyone is using UF Engaged as I would like, but good managers are finding it's a great opportunity to have more regular informal conversations with their staff — and they understand those conversations are the key to having high performing employees.
I'm excited about where we're headed with Baby Gator and being able to expand access for faculty and staff to early childhood education on campus. We understand it's central to the kind of organization we need to be. I'm also proud of the fact that we've added paid family leave. I know the institution was primarily focused on parental leave. But it was important to us to be more inclusive to make leave available for people during the best of times, which is hopefully when they're adding a child to their life, as well as the worst of times when they're dealing with a serious issue due to their own health or someone close to them in their family.
Many have been surprised to learn that you are retiring at such an early age. What led you to make this decision at this point in time?
It's really about my version of work-life balance. I think we all need to do our very best to stay healthy and to pay attention to sleep and the relationships we have. You know the whole song and dance about having it all, but I just don't think any human can do it all, and we are all making decisions every day about what to prioritize. Hopefully those decisions are consistent with our values, because if not we're going to feel out of sync all the time.
Working here for 30 years was always my plan. Part of this decision to retire is a way of achieving, or at least working on, balance. We tend to think about work-life balance in terms of every day, or every week, or where we are in the moment. But another way, at least for me, was to just put everything I could on the table and work as hard as I could — and then, when I hit those 30 years as a milestone, it was time for me to try a different version of life. And that's what I'm going to do: I'm going to try another version. I'm a little bit nervous about it, but I'm also really excited.
The university does have really helpful retirement planning available. I'm in the pension plan, so 30 years is an important milestone. I've been able to save with that plan, so I can handle health insurance, which is a big deal. And while we know UF's Optional Retirement Plan is not as competitive as we would like because we're part of the state system, there are really good voluntary investment plans. As a university, we've worked hard over the past couple years to get to a good place for people so that investment choices are clearer and that we are offering high quality funds.
My hope is that every employee can have a long career here if that's what they want, and that they're able to plan for their future in a way that makes sense for them. It's sort of twofold: I want them to have a great experience here. I want them to continue to grow, and I hope that they are able to achieve wonderful professional milestones. And I also hope that, when they are ready for the next phase of their life, which will be deserved and something they've worked hard for, that they're prepared for it. I feel grateful that I am, and I am hopeful that that our faculty and staff can take advantage of what HR can do to help them to have a similar approach when it's time.
Can you tell us a little about your plans for the future?
Well, I really am looking forward to having more flexibility in my life and traveling with my husband. The world is a very interesting place, and I'm looking forward to being able to go places without having to worry about checking my email [laughing]. Is there Wi-Fi? I don't care!
We also have a family home in eastern Tennessee outside of Boone, North Carolina, and we'll probably spend more time there. I'm looking forward to figuring out how to successfully garden tomatoes. And I'll do some coaching and consulting on the side, I think.
You know, I don't know how to say this exactly, but I really am looking forward to learning about a new version of myself. I feel like I'm at an age where I can do that. I've just been here forever and while it shocks some people when they hear I'm leaving, I'm glad that people are surprised, as opposed to relieved [laughing]. But I am looking forward to figuring out what I want and who I am when I'm not here, because so much of my identity is wrapped up in my professional life.
Being purpose-driven means you know what is important to you, and you're doing your best to live your values. If you're doing that, it's hard to go wrong. It doesn't mean it will be perfect, but at least you're being true to yourself. I've always been someone who sees myself as growing. I always say I try to be a better person every day and I try to grow every day. I tend to think about life through the lens of opportunity, whether that's professionally or personally. I don't see retiring as a stopping point. I just see this growing in a different way, and I'm excited about that.