McKnight Brain Institute staff member's warmth and compassion inspire others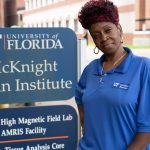 Greta Walker has worked at UF for more than 20 years in her current role as a custodian for the McKnight Brain Institute (MBI). Despite the challenges the pandemic posed, Walker came to work every day to perform her job with a smile on her face and a prayer in her heart. 
To learn more about Walker, read this MBI spotlight: https://mbi.ufl.edu/2021/10/28/behind-the-scenes-with-greta-walker/.