Renewing connections with the UF Asian Faculty and Staff Association
While the Asian Faculty and Staff Association, or AFSA, is not new to the University of Florida, engagement within the association has waned over the years. By the time the pandemic started in 2020, the AFSA was no longer active. The pandemic, however, reminded former members why an association like the AFSA is important for the UF community.
The number of anti-Asian hate crimes in the United States increased by 77% from 2019 to 2020, and more than 9,000 anti-Asian incidents were reported between March 2020 and June 2021. An Atlanta shooting that killed eight people, six of them women of Asian descent, prompted UF administrators and academic units to issue statements condemning racism against the Asian, Asian American and Pacific Islander communities.
In January 2021, four women representing UF's Asian faculty and staff came together seeking to not only revive the AFSA but to build upon its foundation.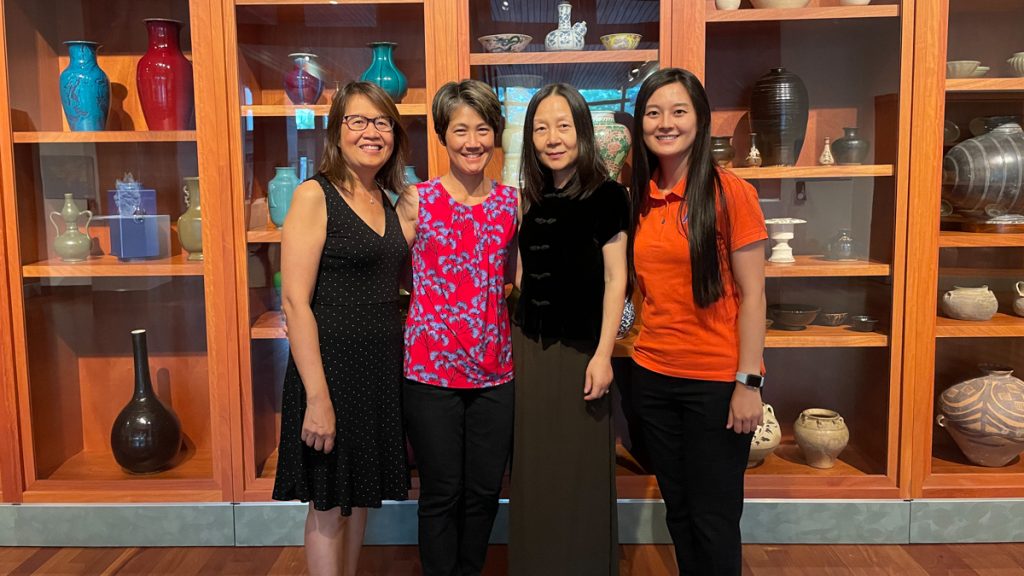 "We want to make the association into more than what it was," said Ying Zhang, UFIT Research Computing's Team Lead for AI Services. "This will be a place where we can form a community, provide information, increase understanding of our cultures and advocate for our members so they have the support they need."
Cultural, personal and professional advocacy are key areas of focus for the group as they work to build the AFSA's mission and goals.
"We are here, and we intend to do something that will benefit the community — and I'm not just talking about the Asian faculty and staff at UF, but anyone that wants to connect with us, learn about us and help our cause," said Ratree Wayland, Ph.D., Department of Linguistics associate professor and faculty advisor to the UF Thai-Lao Student Association.
Part of building a community that brings its members together includes finding ways to network and collaborate. Building on professional experiences, learning from one another and offering its members a platform where they can be celebrated for their achievements is an important component of what the group is working towards.
"The ability to network with others is invaluable," said Anchalee Phataralaoha, Center for Instructional Technology and Training education and training specialist. "Professionally, we can share experiences, ideas, tips and strategies of how we can advance in our careers."
As the group brainstorms future initiatives, they hope to create opportunities to network not just with members of the association, but with other groups across campus.
"If you work in certain areas of UF, you don't always have the chance to meet and collaborate with people in other parts of campus," said Sha Liu, UFIT application programmer. "AFSA offers a great opportunity for members to connect and learn from people across campus. In the future, these connections could help in your career path."
This year, the group is also working on various events that will bring awareness to the challenges faced by the Asian community in the United States and promote Asian culture.
The AFSA's first event, hosted this past March, was a panel discussion that featured three guest speakers representing UF's Asian faculty, staff and students. The panelists discussed their path to success in academia and their personal experiences at UF. Last week, the AFSA also partnered with the Harn Museum of Art to host a tour of the Harn's Asian collection, led by Cofrin Curator of Asian Art Tongyun Yin, Ph.D.
For future events, the group is planning a panel discussion on Asian representations in media and how harmful stereotypes hurt the Asian community. Its members are also working to bring an Asian comedian to campus to discuss his career path, how it diverged from his parents' expectations and his experiences as a gay person within the Asian-American community.
For the remainder of the year, the group hopes to grow the AFSA's membership, inviting all faculty and staff to join and help reach AFSA's goal of creating an environment that promotes cultural understanding and inclusivity across campus. They also look forward to connecting with other affinity groups and UF departments to find ways to collaborate on future initiatives.
"There are stereotypes of Asian people being quiet and not standing up for themselves. We need to challenge that and advocate for ourselves," said Phataralaoha. "I would like to see more people getting involved and be part of the association. People need to do something for their own good rather than wait for something to happen for them."
---
Interested in joining or collaborating with the AFSA? Contact one of its members listed here:
Anchalee Phataralaoha, anchalee@ufl.edu
Ratree Wayland, ratree@ufl.edu
Sha Liu, liu.sha@ufl.edu
Ying Zhang, yingz@ufl.edu