UF honors longtime staff at Service Recognition celebration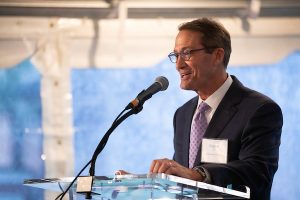 UF President Kent Fuchs, Ph.D., and Senior Vice President and Chief Operating Officer Charlie Lane, Ph.D., hosted a staff appreciation reception at the Earl and Christy Powell University House in February. The event honored staff who celebrated 25, 30, 35, 40 and 45 years of service at UF in 2021.
Before presenting each recipient with a commemorative plaque, Fuchs and Lane delivered remarks highlighting how the work and dedication from the attendees helped contribute to UF's success.
"The expansion of academic programs, unceasing growth in research, and increasing success in innovation – those aren't miracles. UF joining the Top 10 best public universities in the nation and rising to the Top 5 – not even that is a miracle. What's happened at UF isn't miraculous. It's simply the result of the hard work, focused effort and good will of people — the people who work for this university, and especially the employees who have dedicated their careers and working lives to UF — all of you," said Lane.
One of the honorees, Assistant Vice President for Enrollment Management and University Registrar Stephen Pritz, has served UF for 50 years. President Fuchs praised Pritz for his accomplishments, dedication and journey at UF.
"Mr. Pritz began his career as a financial aid counselor in 1971 and remained with the financial aid office for 12 more years. He was named associate registrar in 1984 and university registrar and assistant vice president in 2011. Pritz is a treasure of this university. He is very much admired as our registrar, a university leader and a person who has helped countless students attend UF, earn their degrees and graduate as Gators. Mr. Pritz, thank you for everything you've done for UF and for our students," said Fuchs.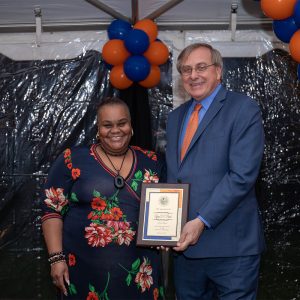 Tiffany Danielle Pineda, research navigator for the Clinical and Translational Science Institute (CTSI), was one of the honorees who celebrated 25 years of service at UF. While working at the institute, Pineda helped create and chairs the CTSI Diversity and Cultural Competence Council.
"I am grateful for not just 25 plus years of employment at the University of Florida but for 25 years of growth and support to make a difference as a Gator Mom, Grad and employee," said Pineda. "I have been blessed to earn several promotions while at UF and am appreciative of the ability to make an impact in making the Gator Nation greater. I extend gratitude to Dr. Fuchs and my Director, Dr. Duane A. Mitchell, for not just this recognition but for leading a university I am proud to work for and hope to continue to make greater!"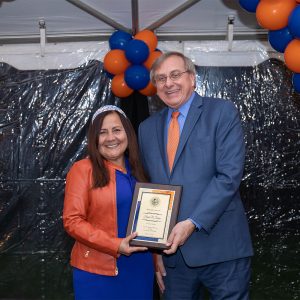 UF Housing and Residence Life Administrative Assistant Haidee Duenas was another honoree who also celebrated 25 years of service at UF. For Duenas, her time at UF was made better thanks to the people she's met and the experiences she gained.
"I want to start with sending a big thank you to whoever put the event together, everything was very organized. The students who welcomed me at the front door — all of them were amazing," said Duenas as she described her experience during the event. "I'm very grateful and very lucky to be part of the Gator Nation. Working at UF has been such an experience. All the years, all the people I had the opportunity to meet and learn from, that will be a treasure that I will always keep!"
Congratulations to all the honorees. Your hard work and dedication push the University of Florida to greater heights.
Visit the Learn & Grow website to learn more about the Service Recognition Program and to view the 2021 award recipients. 
View photos of the event here: https://ufphotography.photoshelter.com/galleries/C0000rOW4tp4Hprw/G0000oEGYnb7tuB0/2022-02-10-Staff-Appreciation.