UF TREEO Center celebrates its instructors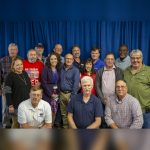 The UF Center for Training, Research and Education for Environmental Occupations, or TREEO, recently held a day-long workshop and award luncheon for more than 20 trainers who have helped make the center a leader in environmental occupations training since 1977. Attendees were treated to an awards luncheon where trainers were recognized for their years of service and dedication to environmental training.
Learn more: https://pwd.aa.ufl.edu/blog/uf-treeo-center-celebrates-its-instructors/.