2018 UF Campaign for Charities: Gators Give, Oct. 1–19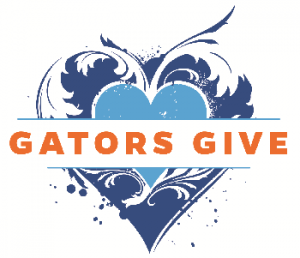 Since 1989, UF employees have given more than $23 million to area charities through the UF Campaign for Charities. This year, UFCC hopes that Gator giving will increase by another $1 million.
UF employees can choose to support one or all of the 93 charitable agencies that are part of the campaign. The agencies provide services ranging from shelter for the homeless and environmental protection to support for disease research and protection for abused children.
UF's Aid-A-Gator program is now part of the UFCC campaign. Established last September as an emergency fund for UF faculty and staff impacted by Hurricane Irma, the program has expanded to assist employees experiencing emergent and unexpected financial hardships. Learn more.
You can support the campaign through payroll deduction, check, cash or credit card, and your gift can be designated to a specific agency or agencies, or undesignated (given as a general donation to support all agencies).
When you donate through the UFCC, the charities receive a greater amount of money since undesignated UFCC donations are divided up among all of the charities. Last year, gifts designated to specific agencies increased by 24 percent.
Your donation helps make our community an even better place to live and work. Learn more about the UFCC.