Florida Women's Athletics celebrates 50 years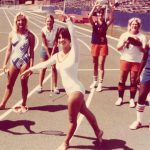 Florida women's athletics have long been a source of pride for UF, with the competitions of more than 2,700 female student-athletes claiming 165 national or conference championships.
To celebrate, a home competition date for each of UF's sports — men's and women's — is designated as a Florida's 50th Anniversary event. Follow the Gators on social media or visit the Florida Gators website for upcoming celebration dates. 

Learn more: https://floridagators.com/news/2021/9/21/50-year-anniversary-of-florida-womens-athletics-kicks-off-this-weekend.aspx.