UF honors integration pioneers with historical marker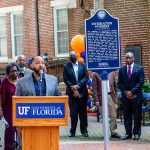 Last week, UF unveiled a historical marker honoring the integration pioneers who led the charge to desegregate the institution. The marker honors the efforts of Virgil Hawkins, one of six African Americans who sued the university after being denied admission in 1949 solely based on their race.
Other pioneers recognized on the marker include George Starke, the first Black student admitted at UF; W. George Allen, the first African-American to graduate with a law degree from UF; and Stephan Mickle, the first to receive a bachelor's degree in 1965.

Learn more: https://news.ufl.edu/2021/09/uf-honors-integration-pioneers-/.