Celebrate Men's Health Month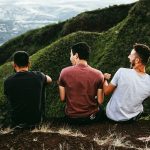 Did you know men die at higher rates than women from 9 of the top 10 causes of death? June is Men's Health Month, and in recognition, we've put together some mental health resources, a self-paced fitness challenge and more. You can also check out GatorCare's Men's Health Awareness page, which includes resources to help you and the men in your life make the best choices when it comes to healthcare. 
Join us on Twitter, Instagram or Facebook to share how you are celebrating Men's Health Month, using the hashtag #MensHealthUF.
Learn more in this UFHR Wellness article.