Explore new ways to create a healthy lifestyle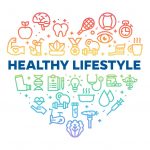 Our Healthy Lifestyle Program offers a series of six sessions that explore ways you can create a healthy lifestyle. Each session focuses on a specific health topic — including goal setting, physical activity, nutrition, energy balance, stress management and resilience.
Altogether, this six-week program is designed to change our perspective on what it takes to create a healthy lifestyle. Sessions occur once a week, and each session lasts for approximately 45 minutes. If you want to start adopting healthier habits but are not sure where to start, this program is for you!

Three concurrent series are being offered, beginning this week. To register, choose one of the series listed below. To learn more about the Healthy Lifestyle Program, visit the UFHR Wellness website: https://wellness.hr.ufl.edu/initiatives/programs/healthy-lifestyle-program/.
Thursdays at noon starting Oct. 7
Tuesdays at 1 p.m. starting Oct. 12
Wednesdays at 11 a.m. starting Oct. 13