Explore ways to create a healthier lifestyle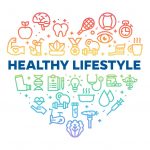 Don't miss your chance to register for a live series of the Healthy Lifestyle program, which features six weekly 45-minute sessions that explore ways to create a healthy lifestyle. Each session focuses on a specific health topic — including goal setting, physical activity, nutrition, energy balance, stress management and resilience.
Choose from two series that will be offered beginning Feb. 1 or Feb. 3. If you want to start adopting healthier habits but are not sure where to start, this program is for you!
Visit the Wellness website to register.