UF expert offers insights into diabetes prevention and access equity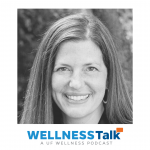 In our latest Wellness Talk, we talked with Dr. Ashby Walker about diabetes awareness, prevention and access equity. Dr. Walker serves as the director for health equity initiatives at the UF Diabetes Institute. 
Watch the recording: https://bit.ly/3kZOPYi.  
Listen to the podcast on Spotify: https://spoti.fi/3nZcn1v.

Additional resources you can explore: 
The UF Diabetes Institute created a series of videos highlighting people living with diabetes: https://bit.ly/3CH82Ep.
The American Diabetes Association is a great resource for diabetes education, advocacy and the latest research: https://www.diabetes.org/. 
UFHR Wellness' Healthy Lifestyle Program focuses on developing healthy habits: https://wellness.hr.ufl.edu/initiatives/programs/healthy-lifestyle-program/.